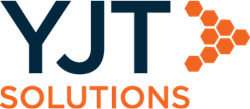 In my experience, YJT's quality of service is the gold standard.
Chicago, IL (PRWEB) February 17, 2017
YJT Solutions, Chicago's top-tier IT managed service provider, announced today that Pamela Diaz has joined the growing firm's executive leadership team as President. She joins CEO Linda Maclachlan on the company's executive team, advancing the visibility of women in the technology sector on a national and local scale. As President, Diaz will further establish YJT's commitment to a client-focused approach across all business.
"Pam is a professional tour-de-force, with an impressive track record of strategic and operational accomplishments," said Linda Maclachlan, YJT's Founder and Chief Executive Officer. "I could not be more thrilled to welcome Pam to YJT Solutions. Her wealth of experience, repeated success in key operational leadership roles and infectious positivity are just the qualities that YJT needs to continue to flourish in 2017, and beyond."
With 20+ years of professional leadership experience in financial services, Diaz has established herself as a respected figure in Chicago business. She has held a diverse portfolio of operations and management roles, and has leveraged this experience to become an authority in operational leadership, with a distinctive focus on client satisfaction.
Diaz began her career at Brinson Partners in Chicago and stayed on with the company when it was acquired by UBS Global Asset Management. She then began a long-standing career with UBS, where she was ultimately appointed Executive Director, Global Operations Business Manager.
"The technology world is changing rapidly for businesses, and the resulting support structure that keeps them going is changing with it," said Diaz. "In my experience, YJT's quality of service is the gold standard, surpassing any other IT services firm. Their dedication to excellence in IT services is why I joined this team, and I am truly excited to lead this great firm; to help them reach even greater heights."
Diaz came to YJT from Ariel Investments, where she served as Director of Global Operations and Interim CIO. In this role, she was in charge of overseeing international and domestic operations teams, as well as support and strategic planning of information technology.
About YJT Solutions:
YJT Solutions, LLC is the leading provider of managed IT services in the Chicago metro area for small to mid-sized businesses. YJT got its start in 2001, tackling the unique IT challenges of Chicago's most intense trading environments. Over the past 16 years, the firm has become a premier IT support and services provider, consistently delivering 24/7 local support, 365 days-a-year. Located in Chicago's Loop, YJT Solution's team of skilled engineers is constantly redefining the standards of premium customer care, while maintaining extraordinary customer satisfaction and retention ratings. For more information about YJT Solutions, please visit the YJT Solutions website.