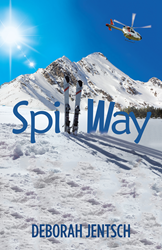 (PRWEB) February 20, 2017
When facing the hardest of times, it can be easy for one to lose faith; however, for Deborah Jentsch, the exact opposite happened. In her new book, SpillWay, Jentsch demonstrates that getting through the toughest of times is possible by way of continuing to trust God, even when his answers to prayers are not the answers that were hoped for.
SpillWay follows Jentsch's family as Caleb, Jentsch's son, suffers from a traumatic brain injury as the result of a horrific skiing accident in Keystone, Co. Confident in her faith in God, she left it up to him. What's more, Jentsch hopes this book will strike a chord with readers, encouraging everyone to rethink their current relationship with God.
"I am hoping anyone who has known a similar crisis or feels empathy with others will be moved," said Jentsch. "Everyone will experience difficult seasons in their lives, and I believe faith in God can and will deepen their relationship with Him during the hardest times."
"A beautiful, and at times heartbreaking, walk of trust and faith by a family in crisis," a reviewer wrote in a five-star review of SpillWay. "Through everything, God is the anchor that holds this family steady as He reveals Himself in their journey. I cried. I laughed I rejoiced."
SpillWay presents the story of one family getting through extreme hardships by experiencing the way of a faithful God. "The Lord is good, a refuge in times of trouble." (Nahum 1:7 NIV)
SpillWay
By Deborah Jentsch
ISBN: hardback 978-1-5127-60491-9 (softcover); 978-1-5127-6048-4 (hardcover); 978-1-5127-6047-7 (electronic)
Available at WestBow Press, Amazon and Barnes & Noble
About the author
Deborah Jentsch is a mother of three who enjoys writing and devoting her time to God. She graduated from Texas A&M University in College Station, Tex. and has since taught, wrote and shared devotions, all while raising a family. She and her husband, Kurt, have been married for more than 30 years and they currently live in South Texas with their family.
###
Review Copies & Interview Requests:
LAVIDGE – Phoenix
Chris Peña
480-998-2600 x 519
cpena(at)lavidge(dot)com
General Inquiries:
LAVIDGE – Phoenix
Kalin Batts
480-998-2600 x 524
kbatts(at)lavidge(dot)com