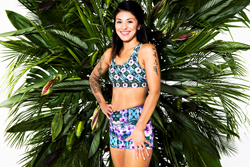 But it's in the DNA of a Hawaiian shirt to telegraph a breezy kind of fun. Be thankful that this time around, no talking parrot or shots of tequila are cheesing up the picture.
Los Angeles, CA (PRWEB) February 21, 2017
There's nothing worse than having the same workout outfit as the person next to you in class. The mainstream brands all follow the same trends and that just makes for most activewear having no personality.
Ever since Eden Activewear launched a year ago, they have strived to focus on originality. The three collections to date have always been nature inspired and feature the original photography of creative director Jennifer Cawley.
This new floral collection is no exception. The prints are bolder, brighter and more eye-catching than ever. This kaleidoscopic selection of pieces takes Hawaiian Aloha to the next level. Instead of the vintage block prints associated with the classic shirts, the photographic origination adds a contemporary edge to this distinctive look.
Whether you are in the gym working out, layering on the slopes or protecting yourself from the sun while paddle boarding - this collection uses a premium stretch fabric that offers; SPF Protection, Moisture Wicking and Anti-Microbial features.
Eden Activewear is an 'Agile' manufacturer based in LA. The state of the art factory only produces to order and carries no stock. This nimble approach to manufacturing means that the regular turnover of new designs and prints is always up to date. Equally, this flexibility means that the private label business can offer a customized package with no minimums. This ability has made the brand very attractive to Gym chains and Resorts.
The brand has a very loyal core group of followers in hometown Malibu in sunny California. Fitness icons like Gabrielle Reece, former Olympic Volleyball star and TV personality, and Mandy Ingber, celebrity Yoga instructor to Jennifer Aniston, Kate Beckinsale are devoted fans of the brand.
Quote source: https://www.wsj.com/articles/the-spiffy-hawaiian-shirt-is-back-for-summer-1464790706