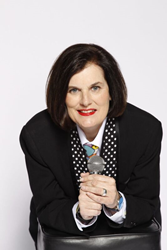 With the exception of that one time. - Paula Poundstone
San Rafael, CA (PRWEB) February 16, 2017
Another laugh-filled evening of great fun with the star of NPR's Wait, Wait… Don't Tell Me, and one of the funniest stand-up comics working today is on the horizon. Paula Poundstone returns at 8 p.m. Saturday, April 22, 2017, to the Osher Marin JCC. The evening is co-presented by the Other Café Comedy Showcase and The Kanbar Center for the Performing Arts at the Osher Marin JCC.
A Paula Poundstone performance always leaves the audience marveling at her ability to interact with them, and the resulting hilarity. Her ability to be spontaneous with a crowd separates her from other comedians working today and that is what has made her a legend among comics and audiences alike. Interchanges are never mean or done at a person's expense. She even manages to handle politics without provoking the pall of disapproval received by less artful comics…
"With the exception of that one time," Paula claims.
It's little wonder people leave her shows complaining that their cheeks hurt from laughter and debating whether the random people she talked to are "plants" – which of course, they never are.
"At the top of her game…" (San Francisco Chronicle)
"Never been funnier…" (Boston Globe)
"Insightful, thought-provoking humor…" (Chicago Tribune)
WHAT: An evening of hilarity with comedienne Paula Poundstone
WHEN: Saturday, April 22, 2017 @ 8:00 pm
No Host Cocktails/Concessions: 6:45pm; Doors Open @ 7pm; VIP Reception @ 7:15pm
TICKETS: From $34.50 to $74.50 with four-tiered seating options. Reserved VIP seating includes a pre-event private artist's reception.
WHERE: The Osher Marin JCC – Hoytt Theater, 200 N. San Pedro Road, San Rafael, Calif., 94903~415.444.8000
MORE: Concessions include cocktails, sodas, Peet's Coffee, Numi Teas and Sweets & Savories. All are allowed in the theater.
More info available at JCC website (http://www.marinjcc.org)
PARKING: Free onsite and street parking
The Kanbar Center for the Performing Arts is the Performing Arts Department in the Osher Marin Jewish Community Center in San Rafael, Calif. All are welcome, no membership is ever required to attend. The Center is a long-standing Marin non-profit, centrally located in Marin County.

Twitter: twitter.com/paulapoundstone
Facebook: facebook.com/paulapoundstone
Website: paulapoundstone.com
About Osher Marin JCC Performing Arts:
The Kanbar Center has established a strong and well-respected reputation within the community as a Center for the Performing Arts in Marin County. Originally known as CenterStage, this performing arts department within the Osher Marin JCC has been presenting a stunning lineup of world-class performances from emerging and established performers annually since 1990. Venues include the grand Hoytt Theater, the intimate Kurland Lounge, and Swig Field, an outdoor venue nestled near the hills of Marin and home of the celebrated Summer Nights festivals.