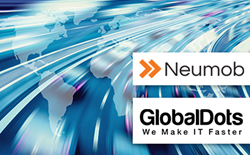 "Neumob has a unique value proposition focused solely on making apps run faster and more smoothly for users. This makes it extremely attractive for our solution portfolio right now." - Yuval Rachlin, Founder and CEO of GlobalDots
Sunnyvale, CA (PRWEB) February 16, 2017
Neumob has signed a worldwide partnership with GlobalDots, a leading web performance and cloud security system integrator, to extend its mobile app acceleration technologies into major enterprises and businesses across Germany, Israel and around the world.
GlobalDots, the world's largest independent cloud and performance optimization integrator, have now added Neumob's 2-line app acceleration SDK to its best-in-class portfolio of solutions that service their global customer base of major airlines, car manufacturers, Forex brokers, online bookmakers and others.
Neumob is now one of the company's preferred options for boosting its customers' mobile app performance. Neumob is the category leader and a true mobile-first CDN focused solely on apps, which is where over 90% of smartphone time is spent. Neumob's SDK increases a mobile app's speed by 30-300% while dramatically reducing app errors and timeouts, even on the world's slowest networks.
GlobalDots' unique positioning on the global market enables them to be at the forefront of every new technology, and with that unique expertise, help their Enterprise clients to quickly and cost-effectively choose, test and deploy the best solutions to service their customer base.
"Neumob has a unique value proposition focused solely on making apps run faster and more smoothly for users. This makes it extremely attractive for our solution portfolio right now, in a world in which a growing share of commerce, bookings and other revenue-producing transactional behaviors take place solely within mobile applications," said Yuval Rachlin, Founder and CEO of GlobalDots.
Jeff Kim, Neumob CEO, added that "GlobalDots maintains trusted customer relationships throughout the world. As a consultative partner to enterprises, they offer best-of-breed technologies to their customers. We are very proud to have GlobalDots represent Neumob into their trusted relationships to help their customers speed up apps and reduce errors around the world."
The two companies will partner in a booth at Mobile World Congress 2017 in Barcelona, February 27th-March 2nd, and will meet with customers during the course of the show.
If you'd like to book a meeting or otherwise get in touch, please contact Neumob and GlobalDots here.