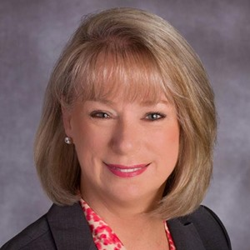 Karen's leadership abilities, strategic thinking, and business acumen has had a significant influence throughout our organization since she joined in late 2013 - Jacob Levenson, CEO of MAP Health Management
Austin, Tx (PRWEB) February 17, 2017
MAP Revenue Cycle Solutions (MAP RCS), a provider of revenue cycle management services, announced today that Karen Pilley has been promoted to Chief Executive Officer.
The need for maximizing reimbursements while minimizing expenses is critical in today's shifting healthcare paradigm – a shift that demands the transition from pay-for-service to pay-for-performance models. By delivering efficient and effective revenue cycle management to its clients, MAP has experienced phenomenal growth; this growth is fueling the ability to serve more clients in greater capacities.
Ms. Pilley was previously Chief Operating Officer of MAP Health Management, the parent company of MAP RCS, and will now be responsible for implementing significant growth in the revenue cycle management business, including potential acquisitions of other billing companies and growth outside the behavioral health vertical. Ms. Pilley is an industry veteran with more than 30 years of experience in the areas of health care billing/collection, revenue cycle management, and government and managed care payer regulation and compliance. Ms. Pilley has held positions with Virtual Radiology, a network of onsite and teleradiology physicians; SPI Healthcare, one of the largest revenue cycle management organizations with more than 500 employees located in Chicago and Manila; and US Oncology, as the Vice President of Reimbursement Services. She is a certified coder and licensed instructor with the AAPC. She is also affiliated with the Medical Group Management Association, the American Health Information Management Association, the Radiology Business Management Association, and the Healthcare Billing and Management Association. She also has a nursing degree from Lewis A. Wilson School of Nursing in New York.
"Karen's leadership abilities, strategic thinking and business acumen has had a significant influence throughout our organization since she joined in late 2013," said Jacob Levenson, CEO of MAP Health Management, LLC. "She will now lead MAP RCS and continue to drive positive revenue cycle outcomes for providers across the country."
About MAP Revenue Cycle Solutions
Located in Austin, Texas, MAP Revenue Cycle Solutions is a subsidiary of MAP Health Management. Since 2011, MAP has been delivering excellence in population health and revenue cycle management solutions. MAP's advanced, data-driven technologies guide our successful revenue cycle management operations. Our clients receive services based on integrated, sophisticated tracking systems and software that allow us to deliver unprecedented turnaround times, rigorous insurance investigations, best-in-class quality control measures, and highly customizable reports that get you the results your investment deserves. For more information, visit https://thisismap.com/rcs-home.
About MAP Health Management, LLC
MAP Health Management is the nation's leader in the provision of a comprehensive, accessible technology platform designed to improve treatment outcomes for patients treated for addictions and other behavioral health illnesses. MAP provides telehealth services, extended treatment support programs, and revenue cycle management to nationally recognized addiction treatment providers and behavioral health professionals committed to measuring and demonstrating outcomes data. MAP's dedicated teams of research analysts, clinical directors, recovery advocates, technology professionals, and billing experts strive to improve patient outcomes, empower treatment providers with data, reduce expenses, and drive facility revenue. For more information, visit https://thisismap.com/.