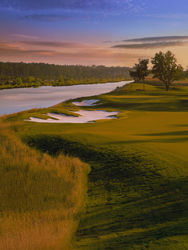 We hope our list will spark lots of lively 19th hole discussions.
Myrtle Beach, S.C. (PRWEB) February 20, 2017
The Grand Strand's premier resource for tee time bookings, Myrtle Beach Golf Trips, has teamed up with the South Carolina Golf Course Ratings Panel to identify "Myrtle Beach's Perfect Round" of 18 golf holes. More than 100 panel members, who have played and rated area courses since 2004, were surveyed about which par 3s, 4s and 5s would make up their dream round of 18 holes along the Grand Strand. After a tally of initial responses, the panel was provided with a list of the holes that received the most votes and asked to select a final 18 holes from that list. Those holes that garnered the most votes were designated as "Myrtle Beach's Perfect Round."
"There are so many great layouts in the Myrtle Beach area that we needed to turn to this panel of experts to identify the best holes," said Steve Mays, director of marketing and sales for Founders Group International, owner of Myrtle Beach Golf Trips. "Since the panel was created in 2004, it has earned a reputation for its expertise in rating courses against a very strict list of attributes. Every panel member has to have played a course in order to vote on it, so the conclusions reached by this panel are recommendations that anyone booking a trip to play golf in the area can rely on."
The four par 3 holes in Myrtle Beach's Perfect Round include some of the most picturesque along the Grand Strand. They have challenging designs and often distract with their scenic beauty. The four include Caledonia Golf & Fish Club # 11, Dunes Golf & Beach Club #12, Grande Dunes Resort Club #14, and Tidewater Golf Club #12. Nestled into a wooded area and featuring a meandering creek moving down the entire left side, then crossing in front of the green, Caledonia #11 demands a precise shot. Dunes #12 is bordered by a lake on the left and the tee shot must carry over a lush marsh to a narrow green. Tidewater #12 offers spectacular views of the Cherry Grove Inlet and the Atlantic Ocean beyond, while demanding a precise shot that will be buffeted by the wind as it sails over the salt marsh to a well-protected green. Grande Dunes #14 sits high on a bluff overlooking the Intracoastal Waterway and requires a long iron shot to a green that appears to be suspended in air over the water. Panel members raved about these small beauties, saying of Grand Dunes #14 in particular: "Spectacular! Set against the Intracoastal Waterway, this is one beautiful challenge!"
The four par 5's on the list offer chances at birdie for long hitters and demand strategic decision-making from average handicap golfers. Known as "Waterloo," Dunes #13 is a legendary hole where a second shot must carry over a portion of the massive Lake Singleton to set up for a third shot to an elevated, multi-tiered green. Caledonia #10 stretches out to a distant green set far below the fairway, ensuring a dramatic start to the back nine of this classic course. Similarly, Prestwick's #9 serves up enough drama as it curls around a lake to ensure that those who come away with par have really earned it. When The Senior PGA Tour Championship was held at the TPC Myrtle Beach, the lake guarding the left side of #18 fairway swallowed some approach shots and produced a memorable finish. Panel members saw the TPC's closing hole as a classic "risk/reward finishing hole that is the type of hole a TPC course should conclude with — demanding but fair."
Some courses that made the list with their par 3s and 5s were also recognized for their great par 4s. Caledonia #18 has one of the best closing holes on the Strand and offers a built-in cheering (or booing) section on the elevated clubhouse porch overlooking the green. Dunes #11's sloping fairway ends with a fish hooked-style green that lets golfers know not to let their guard down after a fairly benign #10 starts the back nine. Tidewater #4 earned its place on this roster with both panoramic views of the Inlet and its position as the #1 handicap on this challenging layout. Home of the Dustin Johnson Golf School, TPC Myrtle Beach is also well-known for its intimidating #3 that starts with a formidable carry over wetlands and ends at a well-defended, elevated green.
Other contributors to the list with great par 4s include Heritage Club's massive #14 with a two-level fairway split by a long water feature. At Barefoot Resort & Golf, the #9 hole at the Dye Club takes tee shots over lush native grasses as the golfer navigates the natural white sands of the Carolina Bays and avoids Dye's infamous pitfalls for wayward shots. Willbrook Plantation #1 made the list by being a formidable starting hole that forces golfers to start by threading a tee shot through a narrow chute and crossing a marshy area. Panel members think it's the "best starting hole on the Grand Strand, a hole that gets your attention right off the tee."
Other courses save their best par 4 challenges for the end of the round. After a beautiful stretch of holes with water and island views, Pawleys Plantation's home hole asks players to travel a long and narrow fairway to a green protected by large, overhanging trees. Pawleys Plantation #18 is "a tough, scenic finishing hole that has both a challenging tee shot and a difficult approach," according to panel members. The wide fairway of Prestwick #18 provides room for error off the tee, but the way to the green from the landing area is fraught with danger as the second shot must be precisely hit into a green tilted toward — and guarded by — a lake. Water is also a dominant feature of True Blue #18 where an imprecise shot into its severely sloped green can mean a watery end to a round.
"It was a pleasure to work with Myrtle Beach Golf Trips on this project," said Michael Whitaker, executive director of the South Carolina Golf Course Ratings Panel. "The panel is composed of a diverse group of golf enthusiasts with varying handicaps and backgrounds who come from the business world, golf industry, coaching and media. We usually rank entire golf courses, so the opportunity to do a closer analysis of individual holes was very interesting to us. With nearly 100 golf courses in the Myrtle Beach area, there are many holes that could make up any one golfer's perfect round. We hope our list will spark lots of lively 19th hole discussions."
About Myrtle Beach Golf Trips
The area's premier resource for tee time bookings, Myrtle Beach Golf Trips has been putting together great golf experiences for customers since 1927, by providing access to award-winning courses, multi-round tee time specials, and golf and lodging packages at the best prices.
Owned by Founders Group International (FGI) and with the help of Golf Insider's 100 percent player-generated course ranking system, Myrtle Beach Golf Trips helps thousands of golfers plan and assemble their ideal golf itineraries. Golfers can choose from "top-100 caliber" courses Pawleys Plantation Golf & Country Club, Grande Dunes Resort Club, TPC of Myrtle Beach, King's North at Myrtle Beach National Golf Club, Pine Lakes Country Club and more than 80 other Myrtle Beach area courses.