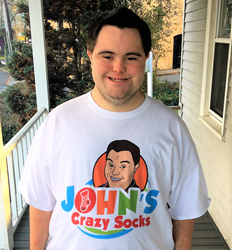 "I want to make people happy with socks. I want to have the biggest sock store ever so I can make more and more people happy."
Huntington, NY (PRWEB) February 21, 2017
John's Crazy Socks, an online sock store co-founded and inspired by John Cronin, a young man with Down Syndrome, has shipped their 1,000th order in only two months of business. Their customer service, charitable commitments, and release of their custom-created Down Syndrome Awareness Socks have contributed greatly to their success.
John's Crazy Socks donates 5 percent of their earnings to the Special Olympics. "We selected the Special Olympics as our first charity partner because they've played such a huge role in John's development.
"When we began offering socks in other areas of awareness, we selected charity partners that properly aligned with our mission." said Mark X. Cronin, John's father and co-founder of John's Crazy Socks.

Autism Awareness Socks: $1 donation from every pair to the Autism Society of America Nassau/Suffolk Chapter
Down Syndrome Awareness Socks: $2 from every pair to the National Down Syndrome Society and ACDS
Blue Whale Socks: $1 donation from every pair to the Whaling Museum of Cold Spring Harbor
Breast Cancer Awareness Socks: 10% from every pair to the Dr. Susan Love Research Foundation.
John's Crazy Socks attributes their success to John's desire to make others happy. "I want to make people happy with socks. I want to have the biggest sock store ever so I can make more and more people happy."
John's Crazy Socks' customer service has earned them strong social media results with over half a million views of John's videos. "The personal connection with our customers is important to us," said Mark. "John hand-writes a thank you note for each customer and adds some sweets as a surprise thank you. Our customers love the personal touch and that has contributed to our rapid success."