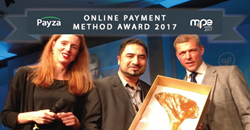 Winning this award wouldn't have been possible without the combined contributions of each and every Payza employee
LONDON, UNITED KINGDOM (PRWEB) February 17, 2017
Payza, a global online payment platform, is proud to announce that they have won the 2017 Merchant Payments Ecosystem Award for Best Online Payment Method. The MPE Awards were announced at the Merchant Payments Ecosystem Conference in Berlin, Germany, February 15, 2017.
"2016 was a banner year for Payza," said Firoz Patel, global executive vice president of Payza, who accepted the award on the company's behalf. "The United Kingdom, for instance, saw over 150% year-over-year growth in terms of new merchant accounts. Overall, Payza saw 50% YOY growth in business signups and 225% growth in merchant payment volume. To be recognized as the best online payment method from among Europe's leading providers is a credit to Payza's continuing effort of providing local payment options to our users in Europe and across the globe."
The MPE Awards, which celebrate and honor the achievements of companies and personalities across the European merchant payments ecosystem, selected Payza as the Online Payment Method Award winner based on its built-in fraud protection and state-of-the-art unique account security features (such as tokenized dynamic payment buttons, custom avatars and greeting messages, and Password and PIN protection); its flexible payment options (such as recurring subscription and split payments for marketplaces); and its hassle free integration that provides European merchants the choice to set their payment preferences based on the countries to which they are selling.
Along with the Online Payment Method Award win, Payza was also shortlisted for the Data Information Award, which recognizes achievements in using big data to improve customer experience, decrease fraud, and increase profitability.
Other 2017 MPE Award winners include:

The complete list of 2017 MPE Award winners can be found here: https://www.merchantpaymentsecosystem.com/en/MPE/Awards/Overview.alej
"Winning this award wouldn't have been possible without the combined contributions of each and every Payza employee," continued Patel. "From our amazing customer support staff, and our dedicated IT team and software engineers, to our merchant account managers, and our banking, fraud prevention, and account security teams, this achievement was the culmination of a full company effort."
About Payza
Payza is an award-winning online payments technology platform used by licensed entities around the world. Payza's highly secure platform provides businesses and consumers with convenient and flexible solutions for sending and receiving payments worldwide. The company offers access to payment services in both traditional and emerging markets, as well as a host of tools and services including: fraud screening, dispute resolution, currency exchange, global payouts and disbursement services. With millions of members, Payza offers its services around the world in 21 currencies, and is proud to provide its merchants around the globe with a complete solution for accepting payments and managing their businesses.
More information is available about Payza on its website, http://www.payza.com, Facebook, Twitter and the company's blog.
Payza is a registered trademark of UK-based MH Pillars Ltd.