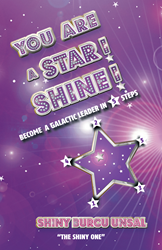 Los Angeles, CA (PRWEB) February 20, 2017
Growing up in a small coastal town in Turkey, Shiny Burcu Unsal knew early on that she was destined to help others through her uniqueness, a piece of wisdom her father imparted upon her from a young age.
When her father passed away unexpectedly, Unsal began to evaluate where her life was headed, beginning her story of transformation. During her journey, Unsal became an avid Neuro-Linguistic Programming (NLP) student, practicing the use of psychotherapy and communication to aid personal development, which she utilized to make her dream of living in Los Angeles a reality. Since then, she has been helping others let their light shine with her NLP and coaching trainings.
In her new book, "You Are A Star! Shine!" Unsal's life serves as both an instructive example and a guide for those who are looking to unleash their star power within. She combines these with the principles and tools of NLP, which Unsal learned from NLP's creator, Dr. Richard Bandler.
Unsal has combined NLP, metaphysics, quantum physics, neuroscience, positive psychology, leadership and communication studies into a new integrated technology for personal growth called Neuro-Shine™, which she introduces in this volume.
"I learned how to be a galactic leader by changing my limiting thoughts and assumptions, freeing me to overcome the obstacles standing in the way of making my dreams come true, including my fear of failure," Unsal said. "Learning to let go of fear and trusting life has allowed me to share my truth and my message of hope and personal growth with the world."
In "You Are A Star! Shine!" readers will hang on to each of Shiny's cosmic words and learn to harness their potential to shine brighter than ever before.
"You Are A Star! Shine!"
By: Shiny Burcu Unsal
ISBN: 978-1-5043-6144-6 (sc), 978-1-5043-6146-0 (hc), 978-1-5043-6145-3 (e)
Available at the Balboa Press Online Bookstore and Amazon
About the author
Shiny Burcu Unsal, known as "The Shiny One," is a Licensed NLP Trainer & ICF accredited Life Coach Trainer in California, the Founder of Be-Live in U and the creator of Neuro-Shine Technology™, who has worked with Dr. Richard Bandler, the co-creator of NLP, Tony Robbins, Brendon Burchard, and more. She is a top-rated leadership instructor at UCLA Extension, a selected member of the Forbes Coaches Council and a 40 under 40 awarded Motivational Speaker and Executive Coach. She has received degrees from METU (Turkey's MIT), UCLA, Harvard Business School and the University of Metaphysics. She previously worked at multinational advertising agencies like Ogilvy and McCann Erickson where she worked with Fortune 500 brands like Coca Cola, Gillette and Audi for a decade. For more information about her, please visit: http://www.theshinyone.com.
# # #
Review Copies & Interview Requests:
LAVIDGE – Phoenix
Maggie Driver
480-998-2600 x 584
mdriver(at)lavidge(dot)com
General Inquiries
LAVIDGE – Phoenix
Courtney Coombes
480-998-2600 x 612
ccoombes(at)lavidge(dot)com