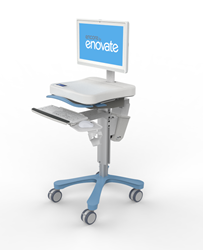 "Having an Encore workstation with MobiusPower 4.0 at the bedside allows nurses to spend more time in the room with the patient. This goes a long way when being measured on patient satisfaction,"
Murfreesboro, TN (PRWEB) February 17, 2017
While EHR data has revolutionized the nursing profession, EHR mobility has not kept pace. Enovate Medical has introduced an innovative workstation designed to reduce nursing fatigue while enhancing productivity. Based on field experience from 20 years of supporting nurses, the Encore Mobile EHR Workstation offers a lightweight, highly mobile, multi-functional alternative to the limitations of handheld computing.
Nurses today are charged with multiple tasks. They must deliver and track medications, chart symptoms and interventions, and document in real-time to support continuity of care. For this reason, Enovate designed the Encore Mobile EHR Workstation to integrate seamlessly into today's clinical workflows.
The Encore's nurse-friendly intuitive design includes antimicrobial work surfaces and the ergonomics of a tilting keyboard and quick, fluid height adjustment for sit and stand positions. The Encore rolls effortlessly throughout the hospital with dual-casters and feather-light aluminum construction relieving nurse fatigue.
"Having an Encore workstation with MobiusPower 4.0 at the bedside allows nurses to spend more time in the room with the patient. This goes a long way when being measured on patient satisfaction," says Kevin Bridges, VP of Business Development at Enovate Medical.
The Encore's user interface allows nurses to work confidently knowing that the battery life is accurately displayed in hours and minutes and that a six-second battery swap will fully recharge the Encore for hours of cord-free mobility.
The Encore Mobile EHR Workstation fits seamlessly into Med-Surg, ER, Respiratory Therapy, or any department where highly mobile computing supports clinical efficiency. When combined with MobiusPower 4.0 swappable power packs, the power-efficient R7 All-In-One PC, and RHYTHM fleet monitoring, the Encore delivers a true mobile solution that streamlines workflows for nurses, IT staff, and hospital management.
Bottom line, the Encore EHR Workstation reduces nursing fatigue and increases HCAHPS scores by allowing nurses to spend less time managing technology and more time with their patients.
Enovate's ENCORE Mobile EHR Workstation will debut at the 2017 HIMSS Annual Conference & Exhibition, Booth 2423, February 19–23, 2017 in Orlando, FL.
ABOUT ENOVATE MEDICAL
Enovate Medical delivers innovative workstation solutions and services for acute care hospitals that improve clinical workflows and facilitate real-time clinical documentation at the patient's bedside. Enovate Medical's specialty-focused approach enables healthcare facilities to advance the highest standards of patient care.
Thousands of healthcare providers rely on Enovate Medical's solutions to enhance nurse workflows, improve patient care, and deliver on the promise of today's EHR systems.
For more information, contact Kevin Bridges, VP of Marketing and Business Development at 888-909-8906 ext 167.