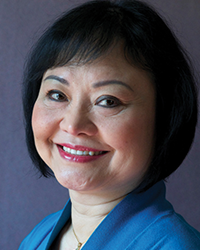 Wausau, WI (PRWEB) February 20, 2017
The subject of an iconic photo from the Vietnam war will deliver the keynote address at ASLMS 2017, the Annual Conference of the American Society for Laser Medicine & Surgery, Inc. (ASLMS), to be held in San Diego, California April 5-9, 2017.
Kim Phuc is known as the "napalm girl" or "girl in the picture," the subject of the famous Pulitzer Prize-winning photo of a nine-year-old girl running down the road in Vietnam after being severely burned by napalm during a bombing of her village. She wasn't expected to survive, but she did eventually recover after 17 operations.
Kim's presentation, Life Lessons, will take place on Friday April 7, 2017 during the conference Plenary session. Kim will offer reflection about her journey from war to peace and forgiveness. She will discuss the bombing of Trang Bang, her struggle to survive, her quest for freedom, how she learned to forgive her enemies and use that photograph for peace; her life as a wife and mother and a UNESCO Goodwill Ambassador for Peace.
"I look forward to sharing my life story as well as my recent experiences with new laser treatments for my scars and pain," said Kim. She will also be participating in a special Q&A segment during the Celebration of ASLMS Women in Energy-Based Devices event the evening of Thursday, April 6.
"We are honored to have Kim Phuc give the Keynote address at the 2017 ASLMS Annual Meeting in San Diego," said Nazanin Saedi, MD, ASLMS 2017 Conference Co-Chair. "Her story of survival of war, overcoming pain and hardship in childhood to emerge as a voice for peace promises to be inspiring for all of us."
In 1996 Kim founded The Kim Foundation International, a non-profit organization which partners to fund projects to help child victims of war. In 1997, she was named a Lifetime UNESCO Goodwill Ambassador for Peace. Kim is a recipient of the Queen's Golden Jubilee Medal and the 2004 "Order of Ontario". She holds honorary doctorate degrees from universities in Canada and Australia.
The Annual Conference of the American Society for Laser Medicine & Surgery, Inc. is regarded as the top meeting for the exchange of information on the latest discoveries, applications and research involving medical lasers and energy based sources. 2017 marks the 37th year of the ASLMS Annual Conference. Visit http://www.aslms.org/ for more information.