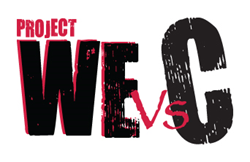 "Project WE vs C is an engaging, heartfelt campaign to empower the voices of breast cancer survivors and enhance our cancer care program to save as many lives as we can from this disease" – Diane Grillo, VP Health Promotion
Morristown, New Jersey (PRWEB) February 27, 2017
New Jersey ranks among the top five states in the entire nation for the highest cancer rates, among all types and genders. And the need for advanced services is growing.
Project WE vs C is a focused two-year campaign led by RWJ and its top-rated cancer care program, in collaboration with their non-profit partners in their fight against cancer and in support of their shared mission to champion the most cutting-edge cancer care services, technology and support for the communities it serves. Fundraising efforts will contribute to the vital $8.5 million, two-year project geared exclusively for enhancements to RWJ Hamilton's comprehensive cancer program.
The project is led by Diane Grillo, VP Health Promotion, RWJ Hamilton Foundation Board Member Lisa Freeman and Lindsay Warren, VP, RWJ Hamilton Foundation. From the start, their charge was to create a program that was distinctive and ownable in a crowded market filled with many Breast Cancer fundraising initiatives.
The result is a first-of-its-kind program combining two related events. First, a Night of Inspiration on June 3, 2017, where attendees can experience the powerful healing effects of song, dance, music and the arts at the incomparable Grounds For Sculpture in Hamilton, NJ. Attendees will also be among the first to premiere renowned choreographer Mark Roxey's breathtaking multimedia performance, Breast Cancer: Personal Stories of Triumph.
The next event, taking place on June 4th, will include the full Breast Cancer: Personal Stories of Triumph performance, as well as the ability for attendees to experience the healing gardens and tap into their creative side through music, art and nature, as well as enjoy unique exhibits and live entertainment.
Morristown-based Trajectory LLC, specialists in branding and marketing across the health and wellness space, developed the Project WE vs C program name, logo and brand identity that umbrellas the overall two-year project and designed all launch marketing materials that will be leveraged across all rollout efforts.
For more information about Project WE vs C, please visit http://www.http://www.rwjuhhfoundation.org/event/wevsc.html