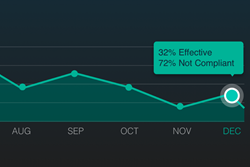 (PRWEB) February 16, 2017
Somnoware, a leading provider of digital health technology, announces the launch of a new care management module that can be used by sleep physicians to track and improve CPAP adherence for their sleep apnea patients. By using machine learning models, this module is able to classify patients that are at risk and those on track for sleep therapy compliance. This new module provides sleep center physicians with an overview of CPAP compliance and comorbidity data for their patient population.
Medical directors can view the number of patients that have been set up with CPAP therapy and those that are at risk of non-compliance. They can also view which patients have specific comorbidities to increase their level of care. This allows physicians to track the success of various treatments over any time period.
There are four main components in the care management module and they each provide valuable insights into compliance monitoring. Below is a description of each section:
CPAP Set Up: This feature provides a timeline overview of all of the patients that have received their CPAP device, mask, and other DME devices from a sleep center. The sleep physician can also see a live or real-time update of the patient set up within their system during their selected time allotment. Based off of this data, the physician can identify gaps between when a patient receives a prescription for CPAP therapy and when they or if they receive their equipment and on-boarding.
At-Risk Profile: Of the patients that have been set up by the sleep center, a physician can be informed by the number of patients that are currently at risk of being non-compliant and those that are actively being monitored. The sleep physician will also be able to monitor trends of their patients over time. They will be able to view who should receive a consultation about compliance behavior.
Comorbidities: As a physician it is important to direct care to where it is needed most. Through the care management module physicians can visualize which of their patients have key comorbidities associated with sleep apnea, so that they can allocate their care accordingly. Physicians will also be able to utilize a risk system based off of the patient's comorbidity, as well as gain insight into those patients with multiple comorbidities, such as: cardiovascular disease, hypertension, congestive heart failure, chronic obstructive pulmonary, coronary artery disease, and diabetes mellitus.
Compliance: Lastly, physicians are able to track the efficacy of their interventions by monitoring the compliance of their patient population. To study therapy compliance patterns and trends they can view historical data, as well as the amount of patients that are set up with CPAP therapy in real time.
Within the care management module is a panel that displays all of the current patients that are at risk of CPAP therapy non-compliance. Patients are ranked by the severity of sleep apnea. A sleep physician can easily engage with a patient by clicking on their name to send them an email or a text message. When a physician double-clicks on a patient's name, a screen appears that provides them with detailed testing data, such as CPAP mask usage, leak, and AHI. Device configuration is based upon the physician's requirements for mask, model, size, and setting.
"We are very excited about our new care management module. Our desire behind this development is to create technology that identifies at-risk patients as early as possible," says Subath Kamalasan, CEO of Somnoware. "Physicians that provide a higher level of intervention improve patient compliance. Our platform arms physicians with critical tools that allow them to effectively monitor and manage CPAP adherence."
As the industry's leading sleep health management platform, Somnoware is currently used by one in five sleep physicians in the United States. It is available in two versions—Somnoware for Physicians and Somnoware for Sleep Centers. Physicians get instant access to sleep test data, e-signature capability, one-click DME ordering, CPAP compliance data, and the ability to conduct end-to-end patient care management. Sleep centers can automate their complete workflow including scheduling at multiple centers, inventory management, automated reporting, therapy ordering, and AASM accreditation.
To learn more about Somnoware, please contact Raj Misra at media(at)Somnoware(dot)com.
About Somnoware
Somnoware is transforming sleep health management by accelerating diagnostics and increasing therapy adherence. It automates sleep testing processes, provides actionable data and predictive insights to physicians, and drives patient engagement. The company's customer base includes leading health systems, independent sleep centers, and sleep services companies. Somnoware is headquartered in Santa Clara, California. For more information, please visit http://www.somnoware.com or follow us on twitter @somnoware.