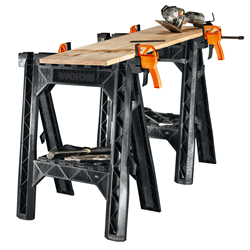 Charlotte, N.C. (PRWEB) February 21, 2017
When it comes to workstations, it's tough to beat the portability of the WORX Clamping Sawhorses and the new WORX® Pegasus™ Worktable to manage do-it-yourself projects. Recruiting the kitchen table, card table or picnic table to handle DIY projects are limited and inconvenient alternatives when these practical workstations are available.
Sawhorses have been around since the 15th century, and over the years they've changed, but their functionality as a work support for sawing or cutting hasn't. WORX has added a new twist in their Clamping Sawhorses by integrating two, 18 in. quick-clamps. Plus, the addition of two notched slots for 2x4s at the end of each sawhorse help elevate 4x8 sheet goods, such as plywood, for clamping and cutting. Once elevated, there's clearance to prevent saw blades from cutting the sawhorse.
These work supports are not limited to cutting plywood. The quick-clamps can be used to secure copper or PVC pipe, 2x materials, 4x4's, sheet goods and other materials for cutting.
The WORX Clamping Sawhorses support loads up to 1,000 lbs. The quick-clamps can be used with or without the sawhorses and, when not in use, are stored on the sawhorse's frame. Lightweight and portable, each sawhorse weighs 8.3 lbs. (with clamp) and is constructed of high-impact polypropylene. When fully opened, they're 32 in. high and 27 in. wide. When folded or closed, they measure 32.6 in.H x 27 in.W x 2.5 in.D for compact storage. There's even an integrated cord wrap holder to store extension cords and a tool tray at the base of the sawhorse for frequently used tools.
The WORX Clamping Sawhorses (WX065, $69.99) are available at Lowes, Walmart, Menards, Amazon and through worx.com. They are covered by the WORX 3-year warranty.
The WORX Pegasus™ Worktable is the best of both worlds because it's two workstations in one. It functions as a worktable and a sawhorse. Its combination of features include built-in channels to house two, 18 in. quick-clamps, plus table slots to hold four clamp dogs to secure workpieces. Pegasus has a 31 in. x 25 in. tabletop and supports workloads up to 300 lbs.
This innovative workstation interlocks with other Pegasus tabletops (optional) through Link-Lock, a method of connecting both workstations together. Combined, this expanded work surface is handy for cutting 2x4s with a miter saw, as an outfeed extension and other applications.
The quick- clamps reside in the tabletop's channels and secure wood for cutting, glue-ups and sanding. Their maximum clamping width is 18-1/4 in. For storage, the quick-clamps lock in place beneath the table when used as a sawhorse.
Converting from worktable to a sawhorse is quick and easy. The tabletop's extension wings are braced with struts. By releasing the struts, the table wings fold down and lay flat until converted back into the worktable. Notched slots at both ends of the sawhorse are designed to hold 2x4's to elevate 4x8 sheet goods for clamping and cutting without damaging the sawhorse.
The Pegasus Worktable weighs 35 lbs. When set up as a sawhorse, it supports loads up to 1,000 lbs. The worktable stands at a comfortable working height of 32 in. When folded for storage or transport, it measures 35-1/2 x 15-3/4 in x 6 in.
Other features of the worktable/sawhorse include recessed tool cavities to hold fasteners and frequently used tools, plus a folding tool tray at the base of the worktable.
The WORX Pegasus Worktable (WX051, $99.99) is available at worx.com and online retailers including Lowes, Menards and Amazon. The worktable is backed by the WORX 3 year warranty.
To reach out to WORX social media links visit: Facebook: https://www.facebook.com/worxus?ref=hl; Twitter: https://twitter.com/WORXTools; Pinterest: http://pinterest.com/worxtools and Instagram: @WORXTools
# # #