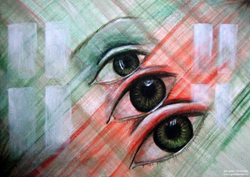 America's greatness lies in the fact that it wholeheartedly accepted people from across the globe and gave them an equal footing.
Milipitas, California (PRWEB) February 18, 2017
Feminist artist Sujata Tibrewala was greatly moved to see the commotion that engulfed America a few days ago. Images of people stranded at airports, the grief of seeing families being forced to separate from each other was enough to move her. At the same time the artist drew strength from millions of voices reacting to the situation and promising to create a more unified world.
Ms Tibrewala, an immigrant in United States herself who came and made America her home, wanted to voice her concerns about the happenings in the country. She decided to showcase an exhibition at her Milipitas studio where her paintings would evoke the experiences that thousands of people must have felt while almost as if being asked to address the sense of belongingness they feel towards this country where they have made their new homes. Ms Tibrewala who participated in the Women's March recently at San Jose, confirms that she saw women and men from all cultures, classes and race unified at the thought of equality and fair access to all. She says that millions of immigrants that have chosen to make America their home enrich the country everyday with their experiences and hard work. Ms Tibrewala says, her belief in the positive contributions of the immigrants in America was strengthened by a new article she read recently on news website Independent, that said, 'All six of America's 2016 Nobel Prize winners are immigrants.'
She realizes the fact that America's greatness lies in the fact that it wholeheartedly accepted people from across the globe and gave them an equal footing. She dreams that America continues to set this stellar example in front of the world.
Amongst her artworks displayed at the exhibit is an acrylic on canvas painting titled, 'Windows to the World.' The artist shows multiple eyes to convey the feeling that eyes in the most expressive manner open a window to the soul of the person. She hopes for simpler times where, looking at each other's needs and necessities we would be filled with humanity and concern and not suspicion and mistrust. Another artwork titled 'Finding Connection,' is a burst of sublime colors almost depicting the non-uniformity of our appearances but the complete form we become when we stand united. For the artist it is a symbolic expression that the universe belongs to all men and women. We must work towards compassion and credit each other for the sacrifices. A better world in the eyes of the artist is possible. All she thinks needs to be done is to strive for it.
About the artist:
Sujata Tibrewala, a self-taught artist come engineer remarkably embodies the indomitable spirit of human existence through her works. Her works revolve around the theme of eco-feminism. She has exhibited her artworks in some of the most reputed venues around the globe such as University of Illinois, Chicago, Raw San Jose, Parallax Art Fair London, the Regional Commission of Arts St Louis, Life Force Arts Chicago, Mindworks Gallery Chesterfield, St. Louis Artists' Guild, Chesterfield Arts, Art World Association, Women's Caucus for the Arts, MySLART and Lalit Kala Academy, Delhi.
She shifted to the USA in 2010 from India and practices her craft and conducts art workshops at Bay Area, CA, where she resides presently.