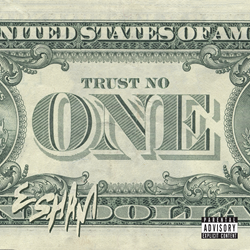 "... rhymer puts hood message on world blast especially in these suspect times."
Detroit, MI (PRWEB) February 17, 2017
Detroit rapper Esham releases new single "Trust No One" today via Reel Life Productions, an independent record label founded in 1988 by Esham and his older brother, James. The track arrives in advance of Scribble, set for release on May 26, 2017.
Legendary MC Chuck D says, "The pioneer Motor City legend rhymer puts hood message on world blast especially in these suspect times. Detroit over Everybody but everybody need to know the root of where it all comes from. Trust Esham on that."
Esham is known for dropping creative, groundbreaking new projects at a frantic pace. His discography consists of eight studio albums with the group NATAS and 14 solo studio albums; Scribble will be his 15th.
"Everyone is always trying to put a label on me and 'Scribble' is a prime example of why they can't," said Esham. "I've been reinventing myself for 30 years and this album is my way of saying you can't copy my style. It encompasses change, beauty, madness, hope, and protest – there's something for everyone. I'm looking forward to seeing how my fans identify with it."
"Throughout the past two decades, Esham has evolved as an independent artist. He has stayed on top of the changes in the music industry, without compromising his lyrics, delivery and his unique style..." said Grouchy Greg Watkins, Founder of the online hip-hop destination AllHipHop.Com. "We have seen many artists come and go throughout our 20 years of operating AllHipHop.Com, so it is really amazing to see that Esham is still dropping dope music…"
About Esham
Since the inception of his career in 1989 with his debut album "Boomin Words From Hell", Detroit music legend Esham has consistently pushed the envelope with his unconventional take on hip-hop. With 50+ different solo and group projects under his belt, Esham has amassed a devoted fan-base and is recognized as one of the most original and captivating artists of his time. He is also the president of his own independent record label, Reel Life Productions. Esham's catalog continues to thrive in the alternative hip hop market.