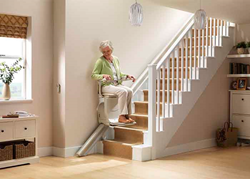 Lewisberry, PA (PRWEB) February 17, 2017
Butler Mobility invited Ken Matthews to visit its manufacturing facility and showroom to learn more about the Stannah Stairlift and other Butler products. Ken was impressed with the safety and reliability of the Stannah Stairlift as well as with the Butler team, and agreed to endorse the product on his show. This endorsement by Ken Matthews can be heard on News Radio WHP 580 weekdays from 3:00 to 6:00 PM.
For more than 30 years Ken Matthews has shared his passions on the radio. His show airs weekdays from 3p-6p and covers the Central Pennsylvania region including parts of Centre, Columbia, Lehigh, Fulton and Franklin counties and also a part of Northern Maryland. Ken's radio segment each day includes an endorsement about Butler Mobility Products and information about the Stannah Stairlift.
In keeping with the quality and customer friendly pricing, the Stannah Stairlifts are thoughtfully designed to be safe, reliable, attractive and easy to use. A practical, easy and inexpensive solution for total access of the home. The Stannah Stairlift allows many people to enjoy the home they love as they age. This is the reasoning behind the addition of this outstanding product line to Butler Mobility Products.
Butler Mobility lifts are known in the industry as "The Lifts that Last". Butler's Inclined Platform Wheelchair Lifts and Dumbwaiters are proudly made in the USA. Call Butler Mobility, toll free, at 888-847-0804 and let their experienced team help with any home accessibility needs, or visit the company's new website. http://www.butlermobility.com