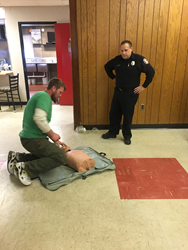 CPR and EHAP Certification training is important to keep our workers safe while keeping our customer's landscape looking great!
Huntingdon Valley, PA (PRWEB) February 20, 2017
Giroud Tree and Lawn just completed a full day of safety training that included CPR and EHAP certification. An annual event, Giroud's Winter Safety Training Day provides Tree and Lawn Crew Members with the awareness and skills essential to doing their jobs safely every day.
The day kicked off with First Aid and CPR training at the Willow Grove Fire Department. Every Giroud field team member is required to get and maintain CPR certification which ensures readiness to handle a life threatening emergency. After an intensive three hours of training, it was time for each specialty to take a deep dive into the safety practices critical to their particular area of expertise.
For our Tree Service Team, the focus turned to EHAP (Electrical Hazard Awareness Program) Certification. The certification is highly praised by the TCIA (Tree Care Industry Association) which encourages all tree care workers be certified to not only stay safe, but also to meet OSHA's strict safety requirements to be eligible to do the job.
It may not be immediately evident, but working in the tree service industry often requires tree crews to work around electrical wires. The Giroud Team tackled this very dangerous part of the business to learn about, and share stories of, managing the risks associated with electrical hazards. Awareness, proper set-up, and safe working distances are critical. If a branch isn't properly rigged to avoid wires or one wrong cut is made next to a power line, the result can be disastrous.
While Giroud's Tree Service Team focused on their EHAP certification, Lawn Care Technicians reviewed the best practices for handling the materials including fertilizers and the company's new 100% organic mosquito control treatment. Additionally, the team got a refresher on properly calibrating their equipment and calculating ratios of material to ensure best results.
"Our field team members navigate potentially dangerous situations daily,so we train and urge heightened awareness every opportunity we get," explains Matt Giroud, Director of Field Operations at Giroud Tree and Lawn. "Each week we hold a tailgate workshop to go over a different safety topic, but there's something powerful about going to a firehouse and realizing you're training to save one of your co-worker's lives, because it can quite possibly become a reality if proper safety precautions aren't taken. Everything we deal with can be dangerous, from climbing trees, to using chainsaws and concentrated chemicals that can be toxic in large doses if not handled correctly. At the end of the day, if we're not fully prepared to assess and manage that risk as a team, we can't continue making our customer's properties look fantastic day after day."
About Giroud Tree and Lawn
Giroud Tree and Lawn specializes in tree service, tree removal and lawn care programs that make customers love doing business with the company since 1974. Serving Bucks, Montgomery and Philadelphia Counties, the company offers professional tree and lawn evaluation, tree pruning, tree removal, insect and disease control, fertilizing, stump removal and traditional and 100% organic lawn programs to keep lawns healthy and green. Giroud Arborists are certified by the International Society of Arboriculture (ISA) and have the knowledge and experience required to properly diagnose, treat and maintain trees and lawn health. The company is Accredited by the Better Business Bureau and has been awarded the Angie's List Super Service Award® every year since 2005. The "Giroud Treework for Charity" program donates free tree care services to parks, historical sites and other non-profit organizations located in the Company's service area. For more information, visit the company website at http://www.giroudtree.com or call 215-682-7704.