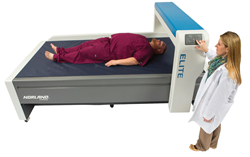 Access to BMD data has been huge in our screening and injury prevention programs, Katie Knappenberger, Professional Sports Dietitian.
Fort Atkinson, Wisconsin (PRWEB) March 25, 2017
Norland at Swissray is pleased to announce the release of the ELITE DXA, a new bone densitometer and body composition analyzers for large subjects. The ELITE DXA has an active scan window, which is more than double that of existing bone densitometers. Historically, subjects that are too wide or long to fit in the scan area could not undergo an accurate total body bone density or body composition study. The ELITE DXA can fully scan subjects as tall as 90" and as wide as 54" while the next largest scanner has an active scan window of 78" x 26". Clinicians tracking long term changes of bariatric surgery patients, researchers focused on obesity, and athletic teams monitoring sports performance and nutritional needs of their athletes now have a gold standard tool for monitoring body composition.
Katie Knappenberger, Sports Dietitian at a Midwestern University Athletic Department recently implemented the first ELITE DXA. In Katie's words the ELITE was selected because "we love that our larger and taller athletes can lay comfortably on the table. We are not concerned about scrunching them into the scannable area and the possibility of having to repeat the scan because they moved. Also because of Norland's lowest industry dose of radiation per scan, I feel safer as a practitioner doing 100's of scans per year."
ABOUT NORLAND AT SWISSRAY
Since 1968 Norland at Swissray has been the pioneer and leader in the design and manufacture of bone densitometry technology. In both clinical and research settings Norland densitometer systems are known to provide the highest accuracy and lowest radiation dosage in the assessment of bone density and body composition. Swissray Group is recognized for high quality products, exceptional instrumentation value, and world class service.
For more info, contact: Joe Joyce, Director, Research & Sports Performance Markets, Joe.joyce(at)swissray(dot)com.