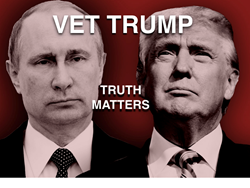 Vet Trump Better than Refugees
Charlotte, NC (PRWEB) February 23, 2017
According to a recent article in The Atlantic, there is widespread distrust in politicians telling the truth. In light of this, Dr. Botelho has launched a people's social media campaign., #VetTrump:TruthMatters to #HoldTrumpAccountableToTheTruth. This campaign aims to empower the people and the mass media to restore the civic virtues of a participatory democracy and assure transparent accountability of the government in striving toward equity for the greater good of all. Without truth, there is no good government.
Last night on TV, Rep. Maxine Waters exposed Trump's connections to Russia's oil and gas industry that raised many unanswered questions, especially given Putin's interference in our presidential election.
In light of Rep. Waters' revelations, one has to ask: Is Putin Trump's friend or foe? Is Trump's answer fact or fiction? What is the true relationship between the Trump Administration and the Kremlin Clan? Do people lack faith in Trump telling the truth, or in the FBI and CIA getting to the truth of the matter?
Post-truth Dystopia
The Trump era seems to have ushered in a wholly new concept of reality. Verifying lies (alternative facts) isirrelevant when self-righteous political biases are fundamentalist truths. Opinions are facts. Two wrongs make it right. Might is the new right. The winning groupthink becomes the law of the land. The political mob rules. According to the Cato Institute webinar and report, Trump-ism is a blind loyalty in populism and nativism (or what others call neo-fascism).
Blind Trump Loyalty
In the land of liberty, loyal political automatons far outnumber free-thinkers and truth-seekers. Even with the chaos of the current administration, Trump still commands a 44% approval rating.
Some Trump supporters are having buyer's remorse (#Trump_Regrets). But paradoxically, the Trump Resistance and Not My President movements have been counterproductive with the opposite effect. Skeptical Trump supporters are now more loyal to him and are blind to the truth of his lies. The opposition must change tactics. "Stand up for Civic Virtues" is more powerful than "Resisting the Opposition." That is why Dr. Botelho proposes these three questions for discussion at Town Hall Meetings.

What will enable the civic virtues of social justice, transparent accountability and altruism to prevail over political sociopathy, megalomania and narcissism?
What will make Trump implode from the gravity of his own free speech: lies, falsehoods, fake news, factious accusations and perpetual scapegoating?
What will burst the "Alternative-facts" bubble sooner than later?
Sign up to the "Truth Matters" campaign to make the Vet Trump Meme go viral.

Share this blog post on Facebook, Twitter and Linked-in.
Invite others to sign up to this Thunderclap campaign
The media must vet Trump better than the administration vets the refugees.
Lastly, make a donation to a refugee organization in the name of Donald Trump.