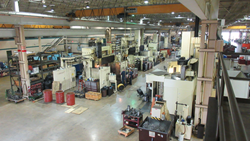 "This is a fantastic opportunity to purchase very well-maintained, late-model machine tools at auction," said HYPERAMS Director of Auction Services Burdette Wilber. "This promises to be one of the premier auction events of 2017."
Wood Dale, IL (PRWEB) February 20, 2017
HYPERAMS, LLC, in partnership with Cincinnati Industrial Auctioneers, announced it will conduct the live and webcast auction of all assets owned by Milwaukee, Wisconsin-based Busch Precision.
The auction will feature over a thousand lots of late-model precision machining equipment, including large capacity CNC vertical and horizontal boring mills, CNC bridge mills, turning centers, grinders and milling machines, as well as plant support and facility items, such as rolling stock, cabinets, tools, and boom lifts.
In addition, the Busch Precision intellectual property is available for sale, including the company name, website, customer lists, trademarks and patents, and two proprietary product lines, inclusive of patterns and molds.
"This is a fantastic opportunity to purchase very well-maintained, late-model machine tools at auction," said HYPERAMS Director of Auction Services Burdette Wilber. "This promises to be one of the premier auction events of 2017."
Wilber noted that the Milwaukee facility was spotless and that the majority of equipment had been exceptionally well-maintained by the staff. "The equipment – some of which is only a few years old - is in excellent condition," said Wilber.
Featured assets include a like-new 2015 Giddings & Lewis three-axis vertical turning center with a 20-position automatic tool changer; an impeccably maintained 2007 Giddings & Lewis twin-head CNC vertical turning center with a 26-position automatic tool changer and Siemens control station; as well as a 2007 Giddings & Lewis CNC horizontal boring mill with a 90-position automatic tool changer and Siemens control station in excellent condition. Other well-known brands represented include Viper, Amada, and Danobat.
The onsite and live webcast auction for the company's main assets will be held on February 28, 2017 beginning at 9:00 AM CST. HYPERAMS and Cincinnati Industrial Auctioneers will be broadcasting the live event to webcast bidders around the globe. Due to the expansive asset list and anticipated high auction participation, a secondary, online-only auction has been added for the company's inspection equipment, inventory, offices, and memorabilia, including artwork from local artists. This timed online-only auction will begin closing at 11:00 AM CST on March 1, 2017.
For more details on how to register for this highly-anticipated auction, please visit http://www.HYPERAMS.com or contact Director of Auction Services Burdette Wilber at bwilber@hyperams.com.
About HYPERAMS, LLC
HYPERAMS is a full-service auction, appraisal, retail advisory and liquidation, and reverse logistics firm. The Company specializes in assisting both distressed and healthy companies manage surplus assets by providing clients with a complete asset disposition strategy. The Asset Disposition division focuses on investing in excess assets and conducting live and webcast auctions. The Appraisal division provides valuations of machinery, equipment, and inventory in most industry verticals. Since its inception, HYPERAMS has performed hundreds of appraisals, auctions, and store closings on behalf of financial institutions, restructuring/turnaround professionals, private equity firms, as well as business owners.