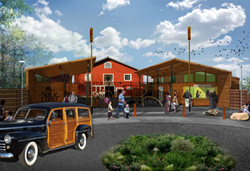 The additional $50,000 contribution will go toward even more enhancement of the new visitors' entrance, which will include a ticketing area as well as a plaza that can be used for events.
Asheville, N.C. (PRWEB) February 22, 2017
Festiva recently announced that it will be doubling its donation to the Western North Carolina Nature Center, Asheville's Wildlife Park, that was originally initiated in 2012. This means a commitment of a grand total of $100,000 to the center's 2020 Vision, a long-term improvement and expansion project already underway at the Nature Center that will help transform the center into one of Asheville's favorite treasures for locals and visitors alike.
The donation is coordinated by Friends of the WNCNC, a nonprofit committed to supporting the WNC Nature Center's mission of connecting people with animals & plants of the Southern Appalachian Mountains by inspiring appreciation, nurturing understanding, & advancing conservation of the region's rich biodiversity.
"With the completion of its 2020 Vision, Asheville will have one of the premier nature centers in the U.S. Festiva is proud to partner with the WNC Nature Center in achieving its plan; one that will enhance our community and provide locals and tourists alike with a hands-on, interactive experiences with animals that are (or at one time were) found in our region," said Herbert H. Patrick, Jr., co-founder and president of Festiva.
Festiva's original donation is still being utilized to transform the historic and iconic red barn on the property into the center's new main entrance, providing a more interactive and integrative first impression for all visitors. The additional $50,000 contribution will go toward even more enhancement of the new visitors' entrance, which will include a ticketing area as well as a plaza that can be rented by individuals or businesses for private events, and can also be utilized for special events hosted by the center.
"The Front Entrance Project really is key to moving the 2020 Vision forward and to creating the very best experience for our guests. Attendance at the WNC Nature Center has increased by more than 31% over the past five years, and continues to grow. The current entrance cannot handle that volume of visitors- which is a wonderful problem to face," said Kelly Christianson Shanafelt, executive director of the Friends of the WNC Nature Center.
Construction is scheduled to begin with a groundbreaking in late winter 2017, with a planned grand opening in early 2018. During the construction process, parking at the Barn Level will be reduced, but plenty of parking will continue to be available on the other lots. The Center will also say farewell to their chickens and turkeys who will be given to other homes during construction, but looks forward to welcoming new residents to a brand new Poultry Palace with the grand opening of the new entrance.
While several projects relate to the center's 2020 Vision are already underway, the construction and completion of the new entrance will mark a huge milestone in the improvement plan, as it will be one of the most visible improvements for guests. It will also allow for the current entrance's transformation into an education center that will increase the center's indoor offerings for year-round use.
"The support of our business community has been integral to the history of the Friends of the WNC Nature Center, right from our beginnings in the 1970s. We are so grateful to Festiva for this partnership," said Christianson Shanafelt.
"At Festiva and our partner companies in Asheville, we have more than 100 employees who can enjoy the center with their families for years to come. That, and our commitment to supporting sustainable hospitality and tourism in our community makes supporting the Nature Center a perfect fit," said Patrick.
The Mission of the Friends of the Western North Carolina Nature Center is to create awareness and provide financial resources, through fundraising and events, in support of the Nature Center - Asheville's Wildlife Park. For more information about the nature center and how you can become a member, visit http://www.wildwnc.org.
Festiva is one of the most successful privately held hospitality companies in the United States. Based in Asheville, North Carolina, Festiva owns, markets and manages 21 hotels and resorts throughout the Southeast, Midwest, Northeast and Caribbean. Festiva also owns a fleet of luxury catamaran yachts and an award-winning golf course. Festiva has nearly 70,000 members and employs approximately 100 people in Asheville and nearly 1,000 people overall. For more information, visit http://www.festiva.com.