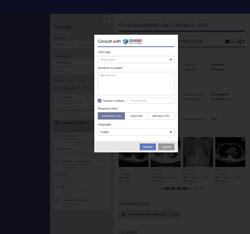 Siemens Healthineers Digital Ecosystem will empower USARAD's mission to directly improve the quality of care and patient outcomes, as well as decrease healthcare costs, while bringing our services in the USA and throughout the globe.
Orlando FL (PRWEB) February 20, 2017
USARAD Holdings Inc., the leading US Joint Commission Accredited venture-backed teleradiology and telemedicine company announces at HIMSS 2017 Annual Conference (Orlando, FL) a world-wide distribution partnership with Siemens Healthineers. USARAD services are planned to be offered via a global cloud-based sharing and collaboration platform as part of the Siemens Healthineers Digital Ecosystem. Subspecialty radiology consultations and second opinions from top American medical experts within all medical specialties can then be requested simply with a click of a button. These services will be supported by state-of-the art integrated infrastructure and fully automated case hand-over to USARAD and will be initially offered in English with optional translation in multiple languages.
The offering is planned to be available to health professionals utilizing Siemens Healthineers diagnostic equipment, including referring physicians, radiologists and radiology department management and personnel. Reading radiologists are planned to be able to collaborate with USARAD subspecialty experts in real time via the Siemens Healthineers Digital Ecosystem. Radiology consultations for complex cases and back up or continuous service is possible for temporary or permanent lack of local expertise. Hospital QA departments, radiology chiefs and practice managers may initiate peer-reviews on select cases or routine basis. Additionally, referring physicians may to request independent second opinions from expert SecondOpinions.com physicians from any specialty and subspecialty. Written, phone and video consultations are offered at on-demand turn-around time.
In the future, second opinion services offered as part of the Siemens Healthineers Digital Ecosystem are also planned to be extended to countless patients desiring reassurance and the peace of mind. In US alone, it is estimated that 40,000 -80,000 Americans die from incorrect diagnoses each year and these errors cost $38 billion in malpractice claims payouts. Misdiagnosis of many serious conditions including cancers result in needless suffering and death. Many medical experts now strongly recommend that second opinions are obtained frequently and in situations when patients are not improving, misdiagnosis is suspected or patients simply want re-assurance. Specifically, it is estimated that at least 4% of all imaging studies are misread. Therefore many experts now believe that second opinions or double reads should be obtained for many complex radiologic studies including PET/CTs, CTs and MRIs.
"Many healthcare providers experience a significant temporary or recurring shortage of expert physicians, especially radiologists. By providing on-demand access to U.S. board-certified specialists through the Siemens Healthineers Digital Ecosystem, USARAD can position themselves to affordably and flexibly support providers to deliver high quality healthcare", explained Ruediger Bertsch, Business Developer for Teleradiology at Siemens Healthineers. Michael Yuz, MD, MBA, CEO and Founder of USARAD Holdings added: "The Siemens Healthineers Digital Ecosystem will empower USARAD's mission to directly improve the quality of care and patient outcomes, as well as decrease healthcare costs, while bringing our services in the USA and throughout the globe."
About USARAD Holding Inc. including SecondOpinions.com®
USARAD Holdings, Inc. is a global telemedicine company consisting of two operating divisions – USARAD and SecondOpinions.com®. USARAD is a radiology services provider offering interpretations of a full range of sub-specialty and general radiology patient studies. With an existing advanced technology network connecting medical facilities to board-certified radiologists and support staff, USARAD offers radiology services in all 50 states as well as more than 15 countries. Via its unique Radiology-On-Demand® platform, USARAD is committed to providing timely and responsive image review 24/7.
SecondOpinions.com® is a medical consultation and second opinions leader providing health care customers, physicians and consumers with expert opinions from all medical specialties and sub-specialties. SecondOpinions.com®, which currently conducts business in more than 80 countries, also contracts with insurance companies, corporations, and medical centers of excellence. USARAD has recently received funding from the Venture Capital Unit of Siemens, Omphalos Venture Partners and Excelerate Health Ventures. For more information please visit http://www.usarad.com and http://www.secondopinions.com.
About Siemens Healthineers
Siemens Healthineers is the separately managed healthcare business of Siemens AG enabling healthcare providers worldwide to meet their current challenges and to excel in their respective environments. A leader in medical technology, Siemens Healthineers is constantly innovating its portfolio of products and services in its core areas of diagnostic and therapeutic imaging and in laboratory diagnostics and molecular medicine. Siemens Healthineers is also actively developing its digital health services and enterprise services. To help customers succeed in today's dynamic healthcare marketplace, Siemens Healthineers is championing new business models that maximize opportunity and minimize risk for healthcare providers.
In fiscal 2016, which ended on September 30, 2016, Siemens Healthineers generated revenue of €13.5 billion and profit of over €2.3 billion and has about 46,000 employees worldwide. Further information is available at http://www.siemens.com/healthineers To discuss these service offerings in detail, please stop by at Booth 2323 (Siemens Healthineers), HIMSS Conference in Orlando, FL Feb 19th-23rd