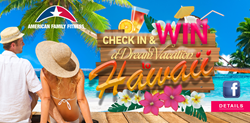 Richmond, Virginia (PRWEB) February 21, 2017
With gyms in Richmond, Fredericksburg, and Williamsburg, American Family Fitness recently announced a Check-In and Win contest at all of their Virginia locations. Members who check-in on Facebook when they workout may be eligible to win an all-expense paid dream vacation to Hawaii with a guest.
Learn more about the Check-In and Win contest at American Family Fitness locations by clicking here.
Who wouldn't want to be surrounded by some of the most magnificent scenery in the world? Surfing the waves of Waikiki Beach, hiking through jungles, exploring volcanoes, or delving into the history of Pearl Harbor, Hawaii is a treasure for nature lovers and adventurers alike.
To be eligible for a chance to win this amazing Hawaiian getaway, American Family Fitness members must check-in on Facebook at least 20 times during the 90-day contest period.
"We love to give members committed to working out chance to earn extreme rewards such as this vacation," says Brian Evans, President. "Not only do we provide our members with services and amenities to boost their health and fitness," he says, "but we also offer this chance for a once-in-a-lifetime vacation to reiterate the importance of consistent exercise in maintaining a healthy lifestyle. It's also a part of what makes American Family Fitness unique in our region."
For the convenience of its members, American Family Fitness offers gyms in Chester, Colonial Heights, Fredericksburg, Glen Allen, Mechanicsville, Midlothian, Richmond, and Williamsburg. Services include family fitness, weight loss programs, group classes, cardio, strength, aquatics, and more. Visit the American Family Fitness website to learn more.