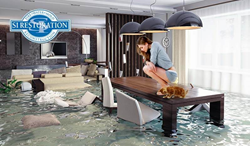 If water damage happens, homeowners need to contact a professional company for help immediately.
Baltimore, MD (PRWEB) February 20, 2017
SI Restoration is cleaning up water damage emergencies in Baltimore, Maryland.
Water damage can be caused by a number of different things, including malfunctioning appliances, plumbing problems, and natural disasters. The likelihood of water damage only increases in the winter months where frozen pipes also become a risk factor. Many houses in Maryland have already suffered water damage from the cold this winter.
Homeowners are often unprepared for what to do in these situations. Usually, people don't think about what to do for water damage until they have to, but it's important to be prepared because it's a time sensitive issue. Any still water that isn't addressed within 48 hours usually permanently damages furniture, floors, foundations, and causes mold growth. If mold begins to grow in walls or under foundations it can be a costly problem to fix.
If water damage happens, homeowners need to contact a professional company for help immediately. SI Restoration offers 24/7 emergency services for these kinds of loss situations. Technicians are guaranteed to arrive within 2 hours of the customer's initial phone call, decreasing the risk of permanent damage to the home and personal belongings.
All technicians are also certified with the Institution of Inspection Cleaning and Restoration Certification (IICRC), which means they have extensive training and experience in identifying moisture sources, evaluating mold growth, containing damage, removing contamination, and drying materials to ensure mold will not come back.
Oftentimes in emergency situations like this people don't know where to turn. They've never dealt with this before and they have to rush to find someone to fix their home. SI Restoration is here for residents in Maryland with over 20 years of experience in the industry. Most insurance companies cover SI Restoration's water mitigation services, which means out of pocket costs for homeowners is reduced or eliminated. Our team's goal is to resolve the emergency situation quickly and efficiently, causing as little stress to the homeowner as possible.
About SI Restoration
Founded in 1989, SI Restoration has been assisting customers with mold removal, water damage, fire damage, and crime scene cleanup for 27 years. The company works with residential homeowners, property managers, commercial properties, and government projects.