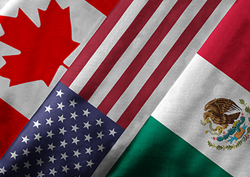 Both proponents and critics of NAFTA agree that the three countries should look at what the agreement has failed to do as they look to the future of North American trade and economic relations.
San Diego, California (PRWEB) February 20, 2017
Co-Production International, the shelter services provider for companies looking to start manufacturing in Mexico, offered a seminar last week to help answer questions about the future of NAFTA under Trump. As a part of the national medical device industry, many manufacturers wanted to know if expanding operations to nearshore Mexico was still a viable option for their firms. The answer was an unequivocal "yes."
NAFTA has improved the economies of its three member nations, added millions of new jobs and created a successful and profitable atmosphere of cooperation. Since its inception in 1994 manufacturing has become a cooperative effort where products are built from multi-origin parts.
Businesses faced with global competitiveness have not only stayed in business, but have expanded capabilities and increased their profit margins. While headlines continue to include words like "worry" and "uncertainty" in regards to President Trump's position on NAFTA and trade with Mexico, the reality of free trade and the interwovenness of North America's economies is a testament to the success of international trade.
HOW NAFTA HAS BENEFITED THE U.S.

Mexico is the United States' third-largest trade partner, accounting for $1.5 billion in bilateral trade every day.
14 million U.S. jobs depend on trade with Canada and Mexico, according to the US Chamber of Commerce.
The United States is, by far, Mexico's leading partner in merchandise trade. U.S. exports to Mexico increased rapidly since NAFTA, from $41.6 billion in 1993 to $240.3 billion in 2014, an increase of 478%, according to the Congressional Research Service.
23 U.S. states send more than half of their exports to Mexico, according to the Transborder Institute.
Mexico buys more goods and services from the U.S. than all of Europe combined, according to the Transborder Institute.
Goods from Mexico and Canada represent about 75% of all the U.S. domestic content that returns to the United States as imports.
SEVERE IMPACT ON U.S. MAKES NAFTA WITHDRAWAL UNLIKELY
President Trump has zeroed in on the loss of U.S. manufacturing jobs as the reason why NAFTA is unfair to the U.S. So if the U.S. withdraws from NAFTA, would that actually bring manufacturing jobs back home?
Not so, says the Center for Automotive Research (CAR). In fact, more U.S. jobs would be lost in the automotive sector should his plans to withdraw from the treaty come to fruition. According to CAR's report released this month, "for instance, a 35 percent tariff on vehicles imported from Mexico would result in the loss of at least 6,700 North American assembly jobs and 450,000 units of U.S. auto sales."
And this isn't just about U.S. auto jobs, it's also about parts and supply. The CAR report noted that U.S. suppliers would also be threatened as the U.S. exported $22 billion in parts to Canada in 2015 in addition to $20 billion to Mexico.
The CAR report attributes North America's automotive industry competitiveness to NAFTA and Mexico, highlighting, "Without NAFTA, large segments of the U.S. automotive industry would have moved to other low-wage countries in Asia, Eastern Europe, or South America. By producing cheaper automotive parts and components on the 'near shore' in Mexico rather than truly 'off-shore,' Mexican automotive plants helped sustain a competitive automotive industry across North America."
NAFTA RENEGOTIATION THE LIKELY ROUTE
"NAFTA is an agreement that has been around for about 20 years or so. I think it will be healthy to review it and to make sure that all the participants are getting their fair share. There are changes that could be made to reflect the world we live in now," says Enrique Esparza, President of the manufacturer and shelter services firm, Co-Production International.
To drive home the point that NAFTA would benefit from a review and update, the 2015 Congressional Research Service report on NAFTA concluded, "Both proponents and critics of NAFTA agree that the three countries should look at what the agreement has failed to do as they look to the future of North American trade and economic relations. Policies could include strengthening institutions to protect the environment and worker rights; considering the establishment of a border infrastructure plan; increasing regulatory cooperation; promoting research and development to enhance the global competiveness of North American industries; investing in more border infrastructure to make border crossings more efficient; and/or creating more efforts to lessen income differentials within the region."
Everyone seems to agree, renegotiation is going to be the most likely route. With so many stakeholders, U.S. cities and their entire economies dependent on efficient, free trade, it will be hard for the Trump Administration to unilaterally pull out of the treaty.
###
Co-Production International is hardhearted in San Diego, California and is the premier Shelter services provider in Mexico. CPI handles the complete set-up of manufacturing operations in Mexico and manage the day-to-day administrative duties in accordance with Mexican regulations allowing our clients to focus on what matters, manufacturing. For more information visit http://www.co-production.net or call (619) 429 4344