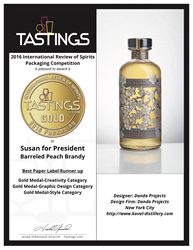 "Ultimately the brand's message must come through the package to sell the product"- Michael Miller, Proprietor of Delilah's Chicago
Chicago, IL (PRWEB) February 21, 2017
Tastings.com put down their tasting glasses and called upon their most renowned drinks trade panelists to scientifically analyze and rate over 100 wine, beer, and spirits bottles, labels, cases, tap handles and gift boxes to determine who excelled in the important area of packaging. Industry players across the globe showcased their designs in hopes of being awarded in the ten highly competitive categories of this distinguished competition.
The competition's expert judges are buyers, packaging designers and journalists. They carefully evaluated entrants' creativity, graphic design, form, shape, style and innovation using Tastings.com's proprietary methodology, developed with a commitment to impartiality. While combing through the competition for the most eye-catching and innovative designs, Tastings.com director, Jerald O'Kennard said, "It's fascinating to watch how each of the judges evaluates packaging from their own particular trade perspective. Their insights and comments are very specific to their needs and the successes and failures they've had working with packages of all sorts."
The relentless competition for retail shelf space and back bars coupled with a growing number of producers and brands means that creative marketers need an effective medium to convey their brands' message and succeed. In the absence of personal representation, packaging is a brand's silent salesperson. When sales reps and brand ambassadors hit the streets, the added advantage of a Tastings.com packaging accolade, along with a quality liquid, provides a powerful tool for securing placements. Scout Driscol, CEO of DesignScout, expects her firm's award of Best Paper Label in the wine category to "catapult DesignScout's word-of-mouth business and create new connections in the industry."
See this year's Best in Category top winners for yourself!
Spirits
Best Bottle- Wild Wombat Gin
Best Paper Label- Bacco 5 year Aged Rum
Best Paper Label Runner-up- Koval Distillery's Susan for President Peach Brandy
Best Label Series- Soleil Mimosa
Best Gift Box- Blue Harbor Vodka
Wine
Best Bottle- Four Fox Sake
Best Bottle Runner-up- Soto Sake
Best Embossed Label- Antigal 2012 UNO Cabernet Sauvignon
Best Paper Label- Cooper's Hawk 2016 Barrel Reserve Red Wine
Beer
Best Can- Austin Eastciders Original Dry Cider
Best Paper Label- Dust Bowl Brewing Co. Taco Truck Lager
Best Tap Handle- Motorworks Brewing Co. V Twin Vienna Style Lager
For a complete list of winners, medals, and images visit our website.
About Tastings.com
Since 1981, Tastings has created 100,000 reviews online for wine, spirits, and beer to help consumers buy and try quality brands. Tastings.com's foundation is a professional blind tasting and review. They experience products by taste, sight, smell and touch. Highly organized beverage tastings are conducted in its Chicago offices and tasting lab to control any external factors and maximize judges' concentration. Every month, Tastings.com features a new category of alcohol reviews with special focus on top rated, Best Buy, and new products. This ongoing review creates fresh content that consumers love to engage with and provides sales and marketing support for beverage brands. Enjoying over 37 years of success and community in the drinks market, find out more about Tastings.com. If you are a member of the beverage industry, see how to get packaging and beverages reviewed here.