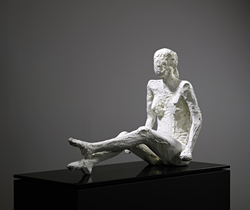 "Manuel Neri's work continues a Modernist figurative tradition advanced in the 20th century by such artists as Alberto Giacometti and Marino Marini, yet Neri's approach to the figure is matchless and very much his own." - Dennis Yares
New York, New York (PRWEB) February 21, 2017
Yares Art is pleased to present "Manuel Neri: Singularity of Form & Surface," the first solo exhibition at the gallery's New York location, featuring bronze sculptures and drawings from the noted California artist. The exhibition runs from February 23rd through April 8th, 2017, with a preview reception on Thursday, February 23rd from 5:30 to 7:30pm at Yares Art's new location on the 4th floor at 745 Fifth Avenue, New York. An 88-page catalogue published for the exhibition is available at the gallery.
Gallery owner Dennis Yares writes in the exhibition catalogue that Manuel Neri's work "continues a Modernist figurative tradition advanced in the 20th century by such artists as Alberto Giacometti and Marino Marini, yet Neri's approach to the figure is matchless and very much his own. For Neri, the sculptural figure remains a viable and relevant vehicle capable of speaking in contemporary terms..."
Neri, whose career now spans six decades, has exhibited with Yares galleries in Scottsdale, Arizona, and Santa Fe, New Mexico, since 1991. This is his first solo New York exhibition in ten years.
Manuel Neri (b. 1930) is recognized for his life-size figurative sculptures and reliefs in plaster, bronze, and marble, their complex surfaces sanded, gouged, or painted as a means of directing the gestural thrust. The life-size bronze figures and maquettes featured in this exhibition are treated with the artist's signature "Alborada patina," a white painted surface layered with yellow glazes, that highlights the glow of the bronze and the sculptures' formal and gestural essence.
In Neri's work with the figure, he conveys an emotional inner state that is revealed through body language, gesture, and surface. During the past four decades, Neri has worked primarily with the same model, Mary Julia Klimenko, creating drawings and sculptures that merge contemporary sculptural concerns with classical forms.
Since 1965 Neri has worked in his studio in Benicia, California; in 1981 he purchased a studio in Carrara, Italy, for working in marble. Neri initially became known in the 1960s for his association with the Bay Area Figurative movement. During the 1950s, he was a member of the artist-run cooperative Six Gallery in San Francisco where, in October 1955, he helped organize the "6 Poets at 6 Gallery" poetry reading, a landmark Beat era event where Allen Ginsberg gave the first public reading of "Howl." In 1959, Neri was an original member of the Rat Bastard Protective Association, along with Bruce Conner, Joan Brown, Jay DeFeo, and other artists. (In the early 1960s Neri was married to painter Joan Brown, though their relationship and artistic collaboration dated back several years prior to that.)
Neri taught sculpture at California School of Fine Arts (1959–65) and UC Berkeley Art Department (1963-4), and was on the art department faculty at the University of California, Davis from 1965-99. Awards include the International Sculpture Center's 2006 Lifetime Achievement Award in Contemporary Sculpture, the 2008 Bay Area Treasure Award from the San Francisco Museum of Modern Art, and many others.
Museums holding works by Manuel Neri include the Art Institute of Chicago; Denver Art Museum; El Paso Museum of Art; Fine Arts Museums of San Francisco; Honolulu Museum of Art; Indianapolis Museum of Art; Memphis Brooks Museum; Metropolitan Museum of Art, New York; Manetti Shrem Museum, Davis, California; Minneapolis Institute of Art; Nasher Gallery at Duke University; Nasher Sculpture Center, Dallas; National Gallery of Art, Washington DC; Oakland Museum of California; Palm Springs Art Museum; Portland Art Museum, Oregon; San Diego Museum of Art; San Francisco Museum of Modern Art; San Jose Museum of Art; Seattle Art Museum; University Museums, Iowa State University, Ames; Whitney Museum of American Art; Yale University Art Gallery, and others.
Yares Art champions primarily major Postwar Abstract Expressionist and Color Field artists and has represented the Milton Avery Estate for the past five decades. The gallery's inaugural exhibition featured "Helen Frankenthaler and L.M.N.O.P," with works by Frankenthaler, Morris Louis, Robert Motherwell, Kenneth Noland, Jules Olitski, and Larry Poons and was hailed by writer David Ebony as "A rarity in New York, … a concise overview of the Color Field movement of the late 1950s and '60s, whose heroic scaled canvases and immersive, panoramic viewing experiences are little known by younger generations of artists and art-lovers." (Nov. 26, 2016, artnet.com)
Yares Art is located at 745 Fifth Avenue, 4th Floor, New York, NY 10151
(212) 256-0969. http://www.yaresart.com