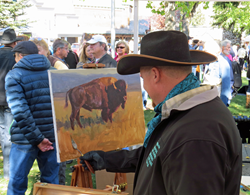 The festival offers a wealth of art-related functions to feed visitors' cultural appetites.
Jackson Hole, Wyoming (PRWEB) February 21, 2017
The 33rd annual Jackson Hole Fall Arts Festival will take place Sept. 6 – 17, 2017, bringing back the Rocky Mountain West's premier cultural event.
For 12 days in September, the streets of Jackson, Wyoming, are bustling with artists and art enthusiasts ready to share and celebrate a variety of creative mediums and events, often inspired by the incredible natural surroundings of the unique mountain town. With more than 50 activities, many of them free, the festival offers a wealth of art-related functions to feed visitors' cultural appetites.
This year the selected featured artist is Austin, Texas-based painter Mark Keathley. Keathley began painting at age 11 on his family farm in East Texas. The artist strives to share the emotion of the moments he captures in his paintings, incorporating bold strokes, amazing color, soul-stirring light and fine detail to bring focus to a work's deeper meaning.
The award-winning Keathley says his favorite collectors are those who see his work, and want to take it home because it causes them to be still and rest – "to listen to that quiet voice." Keathley's specially created featured artwork for the Jackson Hole Fall Arts Festival poster will be revealed at the Wort Hotel, where it will be on display until it is auctioned after the QuickDraw event.
A packed itinerary of culturally rich events including art auctions, food and wine tastings, and house and ranch tours of Jackson's fine homes offers an extraordinary lineup for visitors and locals. Festival favorites such as the Palates & Palettes Gallery Walk, where more than 30 participating Jackson galleries keep their doors open late and offer food and wine to guests, and the Taste of the Tetons, a fabulous foodie feast of the valley's top chefs crafting artful cuisine in the Town Square, show off Jackson Hole's remarkable variety of art and dining options. Also in Town Square, the always popular QuickDraw draws over 30 artists who are given 90 minutes to paint, sculpt and sketch their masterpieces before the live auction to sell the unique works.
Celebrating its 25th anniversary this year, the Western Design Conference Exhibit + Sale (WDC), a signature event of the Jackson Hole Fall Arts Festival, takes place Sept. 7 – 10 at the Snow King Events Center. Ringing in its silver anniversary, the four-day event boasts the best of a juried selection of Western functional art, from furniture and accessories to fashion and jewelry, attracting design lovers and collectors from around the globe. The popular Opening Preview Party and Fashion Show kicks off the WDC this year on Thursday, Sept. 7.
About the Jackson Hole Fall Arts Festival:
Conveniently located just 20 minutes from the Jackson Hole Airport, Jackson, Wyo., is served by major airlines including Delta, United, American and SkyWest. Reservation information for Jackson's numerous hotels, as well as a complete schedule of Jackson Hole Fall Arts Festival events taking place Sept. 6 – 17, 2017, may be found at http://www.jacksonholechamber.com. For additional information, contact Maureen Murphy at Jackson Hole Chamber, 307.733.3316.
Media Contact: Amy Stark, Word PR + Marketing, amy(at)wordprmarketing(dot)com, 307.734.5335