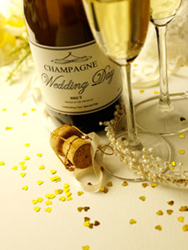 The same labels that have impressed companies of all sizes and industries can contribute to memorable and beautiful wedding ceremonies.
Denver, CO. (PRWEB) February 21, 2017
Time to Plan for the Big Day
With an acute understanding of how long it takes to plan a wedding ceremony, National Wedding Month takes place in February, well before the most popular time of the year for tying the knot. Brides and grooms to be can use this month to get ready for their big days, and employ Lightning Labels to help make the graphic elements as professional and eye-catching as possible.
The same all-digital printing processes that give companies stunning product packaging can brighten a ceremony when the happy couple purchases custom labels for wedding favors. Many different types of labels are available, and they can help ensure guests remember the reception for years to come.
Favors That Look Amazing
A number of different items can bear custom labels that include the names of the bride and groom, the date of the ceremony and potentially the venue. When these custom labels for wedding favors match the overall decor and color scheme of the ceremony, they'll help the whole scene come together. The following are a few of the options available to couples from Lightning Labels:

Custom Wine Bottle Labels: Whether it's the wine served at the reception or a nice vintage for guests to take home, wine can become an integral piece of the overall planning for a wedding. Using classy and subtle custom wine bottle labels that fit the overall decor of the ceremony will provide a nice souvenir of the night.
Custom Champagne Labels: The big toast to the happy couple can involve champagne poured from customized bottles. Whether in conjunction with custom wine bottle labels or on their own, custom champagne labels add a consistent and glamorous look to one of the major moments of a reception.
Custom Candle Labels: Couples who hand out gift bags to their guests will need practical items to place into them. This is a good role for products such as candles, which can receive the custom label treatment to ensure people remember where they got them and think back fondly on the wedding. Custom candle labels can also be used on the candles on tables at the reception, to ensure the candles are attractive parts of the decor.
Water Bottle Labels: Water bottle labels are a great option as well. . If guests want an extra souvenir, they can easily bring a bottle home, bearing the names of the wedded pair and the date of the ceremony.
Time to Order Labels
With National Wedding Month underway, it's a clear sign that couples planning for late spring or summer weddings should be far along in their planning activities. Ordering from Lightning Labels now means getting the related products with time to spare before the big day.
"The same labels that have impressed companies of all sizes and industries can contribute to memorable and beautiful wedding ceremonies," added Lightning Labels Director of Business Development AnneMarie Campbell.
The traits that make Lightning Labels such a valuable business partner – lightning fast speed, commitment to quality, customer service responsiveness and more - solidify its place in wedding plans.
About Lightning Labels:
Lightning Labels uses state-of-the-art printing technology to provide affordable, full-color custom labels and custom stickers of all shapes and sizes. From small orders for individuals to the bulk needs of big businesses, Lightning Labels is equipped to handle and fulfill custom label and sticker projects of all types. Best of all, like the name implies, Lightning Labels provides a quick turnaround for every customer's labeling needs. Uses for Lightning Labels' custom product labels and custom stickers include food packaging and organic food labels, wine and beverage labels, bath and body labels, and nutraceutical products, such as vitamins, essentials oils, and herbal remedies, as well as event stickers, adhesive window stickers and more. Lightning Labels strongly supports the development of environmentally friendly printing materials and carries EarthFirst PLA, a new kind of green label material made from corn instead of petroleum. While operating as a high-tech printer, Lightning Labels prides itself on its personalized customer service. Lightning Labels provides one stop shopping for all of your custom label needs. For more information and to place orders online, visit LightningLabels.com. For the latest in packaging news and labeling promotional offers, find Lightning Labels on Twitter (@LightningLabels), Facebook, Pinterest, Google+ and LinkedIn.