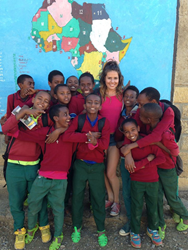 As women, we feel like it's harder to travel alone, but in some ways it's actually easier
New York, NY (PRWEB) February 21, 2017
What began as a two-month backpacking adventure to five African nations turned into a seven-month journey through 13 countries, a website dedicated to Africa, a book, and an overall experience that changed one backpacker's life forever. ExpertFlyer.com recently went One-on-One with Valerie Bowden who, after her lengthy trek through the continent, created the blog, BackpackingAfricaforBeginners.com, and now resides in Ethiopia. While the blog shares some of her personal experiences, it focuses on providing solid advice, tips, and where to visit based on the type of adventure tourists want, and their budgets permit.
Africa is a large continent that offers something for every adventurer regardless of interest or lifestyle. The diverse landscape of Africa provides incredible opportunities for the hiker, thrill-seeker and photographer, and the accommodations available are just as diverse. From pitching a tent to luxury five-star hotels and resorts, Africa can be as rugged or luxurious as travelers want it to be. On her blog, Bowden provides extensive information and options so tourists can make well-informed decisions about where to visit, and why.
During her interview with ExpertFlyer.com, Bowden dispels some of the safety concerns perceived by tourists about Africa and reminded us that she, as a solo woman traveler in Africa for seven months, never experienced any threat or intrusion on her personal safety. "As women, we feel like it's harder to travel alone, but in some ways it's actually easier," Bowden explained. "Families were more likely to give me a ride expressing the hope that strangers would in kind watch over their mother, sister or daughter when they traveled alone." Bowden added that the rule of common sense always applies and you should not travel to regions in Africa that are designated by the State Department as dangerous due to civil unrest or government instability. "In most countries, the biggest crime tourists need to concern themselves with is pick-pockets." Bowden's blog provides a variety of common sense rules that will drastically reduce the risk.
"Africa could certainly fall into that category of 'once-in-a lifetime opportunity' so it's important to do your homework and really determine what you hope to achieve during your trip," says Chris Lopinto, president and co-founder of ExpertFlyer.com. "BackpackingAfricaforBeginners.com is one of the best blogs focused specifically on African tourism and offers a wealth of valuable information that will make the planning process a lot easier."
When to travel to Africa is really up to each individual. As with most countries, there are peak times to visit, rainy seasons to possibly avoid, and other elements that may play into when to plan an adventure. And, as with most countries, off peak is typically less expensive. Trekking through Africa may not inspire a blog or writing a book, but it will inspire the desire to venture out and see more of the world.
To watch the full interview with Valerie Bowden at BackpackingAfricaforBeginners.com, visit ExpertFlyer's blog.
About ExpertFlyer.com
Each month, ExpertFlyer's One-on-One blog goes face-to-face with the travel industry's leading decision makers to discuss and address topics relevant to many of today's business and frequent travelers.
ExpertFlyer.com was conceived and created by an eclectic team consisting of a veteran elite tier frequent flyer, an airline captain and corporate travel manager, and information technology professionals to deliver a 24/7 real time powerful air travel information service. The company provides its subscribers and corporate travel managers alike with a complete, concise and efficient way to access the ever-changing details of worldwide air travel information. For more information, please visit expertflyer.com.
Stuck in the middle seat again? Download the free Seat Alerts app from ExpertFlyer and get the window or aisle seat without hassle or frustration.
# # #