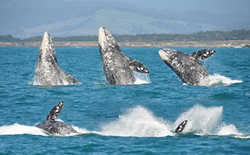 We've got award-winning Anderson Valley wines, local chefs creating amazing chowders for the contest, and North Coast Brewing Company sharing proceeds for marine mammal research.
Fort Bragg, CA (PRWEB) February 27, 2017
The 35th Annual Whale Festival on March 18 and 19 in Fort Bragg, California is a perfect time to catch the migration of the Pacific Gray Whale from Baja to their ancestral feeding grounds in the Bering Sea—as many as 20,000 whales pass by the Mendocino Coast twice each year—heading south between December and February and north from February until April.
Visitors can whale watch from miles of beaches, including the new Coastal Trail in Fort Bragg, enjoy a chowder contest where local restaurants compete (a ticket to the event entitles visitors to cast their vote for the best chowder of the year), and a craft beer tasting offered by local North Coast Brewing Company, both at Town Hall. Following those events, it's time to sample a variety of award winning Anderson Valley wines and hors d'oeuvres while visiting local shops and inns. Tickets can be bought online for the chowder, wine, and beer tasting. Visit MendoWhale.com for details.
"We're very excited about the 35th Annual Whale Festival this year" says Mendocino Coast Chamber of Commerce CEO Sharon Davis, "we've got award-winning Anderson Valley wines, local chefs creating amazing chowders for the contest, and North Coast Brewing Company pouring North Coast Steller IPA, and sharing proceeds from sales for marine mammal research. The Whale Festival is a perfect example of our community coming together to celebrate these majestic creatures while having a great time!"
A variety of other events are scheduled in Fort Bragg throughout the weekend, including a Whale Walk and Run, a Beer and Barbeque Festival, and educational activities with the Noyo Center for Marine Science, the Mendocino Area Parks Association, and Golden Gate Cetacean Research biologists.
MacKerricher State Park is one of the best locations for watching the gray whale migration. A wheelchair-accessible boardwalk leads to the headlands of Laguna Point for a spectacular, panoramic view of a pristine, rugged stretch of coastline where sightings of whale tails or whales breaching are common phenomena. On Saturday, March 18, a guided whale walk led by park staff and volunteer docents along the coastal South trail begins at 11:00 a.m. at the Visitor Center.
Saturday afternoon activities for families focus on arts and crafts, games, and interactive learning at education stations. Kids can build a badge of whale knowledge, play games, make art, listen to music, and enjoy a free hot dog lunch.
On Sunday, March 19th from 1:00 to 3:00 p.m. visitors will have a chance to learn how to help preserve a whale skeleton. Learning opportunities will continue on Sunday, March 19 with a Science and Art Fair from 10:00 a.m - 4:00 p.m., and a talk in Town Hall: Bottlenose Dolphins and Harbor Porpoises by Golden Gate Cetacean Research biologists Bill Keener and Jon Stern from 4:00- 5:30 p.m. in Town Hall.
What to watch for when scanning the ocean for whales:
Spout: a visible exhalation expelled under pressure from the blowhole (paired nostrils) Up to 10 feet high
Pattern of Blows: Occurs 3 to 5 times at 10-20 second intervals
Pods: Groups of 3 to 8 individuals. Look for spouts happening together
Sounding: As the whale dives deep, ridges may be seen on its back
Flukes: The fluke, or tail fin might be seen as the whale sounds
Spy-Hopping: The head is raised above water to allow the whale to look around
Breaching: Whales jump clear of water, and fall back with a huge splash
Whale watching boats are also a great way to observe the huge mammals at close range
If visiting earlier in the month, related events include the Mendocino Whale Festival on March 4 and 5 and the Little River Whale Festival on March 11 and 12. Information and updates for all three Whale Festival weekends is available at Mendowhale.com and on the Mendocino Coast Chamber of Commerce MendoWhale Facebook page.