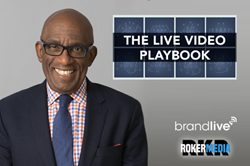 Live video streaming on mobile devices is expected to grow by 39 times over the next five years
Venice, CA. (PRWEB) February 20, 2017
Brandlive, the live video platform for brands and retailers to interact with their audiences, and Roker Media, the first live streaming network, announced The Live Video Playbook a live video event being held on Tuesday, February 21 from 1:00 - 2:30 PT at Fabric Media Studios in Venice California.
The collaboration will consist of a series of live video sessions that cover everything that goes into creating a successful live broadcast. The topics include planning, promotion, production, and reporting. The goal of the event is to give a 360º view of a live video space, and equip viewers with a comprehensive plan of action to achieve success in the live video medium.
"Live video streaming on mobile devices is expected to grow by 39 times over the next five years, according to a recent Mobile Visual Networking Index forecast by Cisco. And with the medium undoubtedly being the most unpredictable format, it's essential to identify the different aspects that go into creating a successful broadcast, and hone in your skills for the future," says Fritz Brumder, CEO and co-founder of Brandlive.
To join the FREE Live Video Playbook event, please register here: http://marketing.yourbrandlive.com/c/live-video-playbook
About Brandlive, Inc.
Brandlive provides a multi-channel live video platform that includes audience interaction plus robust merchandising and e-commerce integration. Brandlive is used by top brands and retailers to conduct live interactive online product training, marketing and e-commerce events. The platform enables brands to connect their best product experts directly to global online audiences, who can then interact with those experts. Customers such as GoPro, Levi Strauss, adidas, REI, Pottery Barn, and Rockwell Tools use this solution to launch products, increase eCommerce sales, create innovative live marketing programs, and conduct more cost-effective training. Brandlive is based in Portland, Oregon, and can be found at http://www.yourbrandlive.com.