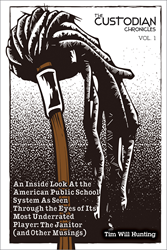 Janitor by day, author, philosopher and activist by night. Meet the real life Good Will Hunting.
Long Island, New York (PRWEB) February 20, 2017
The public school system is a mess, and a real life Janitor who refers to himself as Tim Will Hunting, a play on the movie "Good Will Hunting," has written an eye opening book that exposes the truth behind what really goes on when parents drop their kids off at school. Most people don't think Custodians are supposed to write books. They think custodians are supposed to clean and open doors. Hunting is not your average custodian, or person, for that matter, and his newest book available on Amazon proves just that.
Hunting pulls no punches and offers a witty, philosophical and honest take on what needs to be done in order to save the planet for future generations to come. He calls out teachers, administrations and parents, daring them to look at themselves in a light that they may not like. There has already been some push back from people who have taken offense to his brutally honest and intelligent body of work. Some teachers and parents find his words to be too honest and therefore, wish to silence him.
Sporting dreadlocks and tattoos, Tim Will Hunting is everything the establishment fears, but his objective, critical and analytical view on public education cannot be denied. With a lifetime of experience in the American school system, first as a student and now as a long time employee, he has written a book like no other. At a time when political and cultural tensions are at an all time high, The Custodian Chronicles adds fuel to the fire for some and relief for others.
At 38-years-old, Hunting has enough life experience for two lives, and his background in music, martial arts, entertainment and blue collar work has led him to craft the most potent and entertaining book on education currently available. With a tremendous and unique personality, Tim Will Hunting is set to be the next big thing in not only the literary world but the entertainment and social activism world as well.