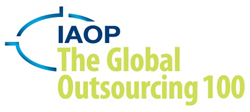 San Antonio, Texas (PRWEB) February 20, 2017
February 20, 2017 – IAOP® today announced its annual Global Outsourcing 100® and World's Best Outsourcing Advisors lists. The lists were released on the opening day of IAOP's 2017 Outsourcing World Summit, at the JW Marriott Hill Country, in San Antonio, Texas.
The outsourcing service providers named to the twelfth annual listing of Global Outsourcing 100 include companies from around the world providing the full spectrum of outsourcing services. The World's Best Outsourcing Advisors, in its ninth year, is the annual listing of the top outsourcing advisors and consultants.
The association recognized the companies named to the lists at its 20th-anniversary edition of its annual summit that brings together over 700 outsourcing customers, advisors and providers from around the globe to share strategies for success in today's economy.
"Now, more than ever, outsourcing end users need to be able to easily identify and select the right company for their outsourcing needs," said Debi Hamill, IAOP CEO and Global Outsourcing 100 co-judging chair. "It is great recognition being named to The Global Outsourcing 100 and The World's Best Outsourcing Advisors lists. Given the strong, global competition, these companies should be proud of achieving excellence in the field."
The official lists will be premiered in a special advertising section on outsourcing in the 2nd Quarter 2017 FORTUNE 500 issue of Fortune magazine, on stands June 15, 2017. All companies included on the lists will have demonstrated their global excellence; "stars" will be awarded to all companies distinguishing themselves in one or more judging category.
The 2017 judging panel, co-chaired by IAOP CEO, Debi Hamill, and Chairman Emeritus, Michael F. Corbett, included Daniel Beimborn, Professor, Frankfurt School of Finance & Management; Teresa Harris, COP, Global Supplier Relationship Manager, GE; Mary D. Lewis, Sourcing Manager II, Supply Chain Management, Sprint; Cheryl Seely, COP, Manager, Thomson Reuters; Paul Quaglia, COP, VP Enterprise Applications, GE Healthcare.
To view the 2017 top 100 service providers and top 20 advisor companies, in alphabetical order, click here.
During the event, IAOP and Information Services Group (ISG) will honor CBRE Group, Inc, a global commercial real estate services company, as the winner of the fifth annual IAOP/ISG Global Outsourcing Social Responsibility Impact Award (GOSRIA). CBRE was selected from among applicants for the IAOP's Global Outsourcing 100. In addition, ISG will make a cash donation in the name of CBRE to its chosen charity, CBRE Cares, which will be allocated to its disaster relief mission.
About IAOP®
IAOP is the global association that brings together customers, providers, and advisors in a collaborative, knowledge-based environment that promotes professional and organizational development, recognition, certification, and excellence to improve business service models and outcomes. Our 120,000 members and affiliates worldwide are digging deep at IAOP conferences, learning at IAOP chapter meetings, getting trained and certified at IAOP courses and workshops, and connecting through IAOP social media, all with one goal: better business results. Whether you are a customer, provider or advisor, new to collaborative business models like outsourcing, or you are an experienced professional, IAOP connects you and your organization to our growing global community and to the resources you need to get the results your company deserves and demands. Visit http://www.IAOP.org.
IAOP Media Contact:
Kate Tulloch-Hammond
Director, Media & Communications
+1.845.452.0600, extension 122
kate.hammond@iaop.org