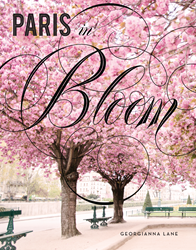 "Paris in Bloom was created to inspire and also enlighten readers – to sweep them away on a beautiful, flower-filled tour of the city's dreamiest floral locations.
SEATTLE, WA (PRWEB) February 21, 2017
New book from widely published floral and travel photographer provides an in-depth view of a different side of one of world's most beautiful and romantic cities: not food; not romance; not architecture; but flowers and floral decor. From elegant floral boutiques to lively flower markets and expansive public gardens, flowers are an essential part of Parisian life and a key motif in Parisian style and decor. The book's lavish photos along with its practical information will add a new dimension to anyone's visit to Paris, and open the eyes of many who are already familiar with the city.
In Paris in Bloom ($19.95 Abrams Image, March 2017) author and photographer Georgianna Lane portrays in over 220 stunning full-color photos Paris's flowers, blossoms, blooming trees, flower shops, market stalls, bouquets, flower boxes, elegant private and public displays and arrangements juxtaposed with the wealth of floral motif architectural and decor detail which these flowers have inspired over the centuries.
Paris in Bloom

contains fresh, stunning images of an aspect of Parisian life which has until now received little attention
provides useful guides on where and when to go to see Paris in bloom, and the best flower shops and markets at which to buy flowers
includes a photographic field guide to the common spring blooming trees and shrubs in Paris
has a section on how to create your own Paris style bouquet
must be looked at and read again and again by anyone who loves either flowers or Paris or floral decor or any combination of these
will create a strong desire in readers to visit or revisit Paris, taking with them a copy of Paris in Bloom as a useful reference book and a guide to flower-centric exploration.
"Paris in Bloom was created to inspire and also enlighten readers – to sweep them away on a beautiful, flower-filled tour of the city's dreamiest floral locations, and to provide practical knowledge of Parisian flora, enabling them to recognize with accuracy many of the different blooming flowers encountered along the way," Lane says. "The architectural images, which are juxtaposed with flower photos throughout, invite readers to observe and discover the wealth of floral decorative detail that abounds in Paris."
Paris in Bloom is available now for preorder in both hardcover ($19.95) and digital ($9.95) editions at most major book outlets. The book will be launched on March 14th, 2017.
ABOUT THE AUTHOR/PHOTOGRAPHER
Georgianna Lane (georgiannalane.com) is a widely published author and photographer with a passion for flowers, travel and the beautiful city of Paris, where she spends part of each year. Her romantic, light-filled images have appeared internationally in numerous books, magazines, calendars, greeting cards, home decor and other lifestyle products.
ABOUT THE PUBLISHER
ABRAMS IMAGE (http://www.abramsbooks.com/imprints/abramsimage) publishes culturally resonant and stylish illustrated and non-illustrated books in such categories as music, humor, reference, fashion and popular culture, among others.
ABOUT THE BOOK
Title: Paris in Bloom
Author/Photographer: Georgianna Lane
Publisher: Abrams Image
Price: Hardcover $19.95  Digital $9.95
Page count: 160 pages
Number of illustrations: 221 full color photos
Printed size: 7 x 9 x 0.9 inches
Formats: Hardcover and Digital
ISBN 978-1419724060
Availability: On sale now at all major bookstores and online book outlets for preorder, launches 14 March 2017
# # #
For a review copy of the book, more information, high resolution book cover art or author/photographer head shot, a video trailer, or to arrange interviews please
contact: David Phillips, 206-604-3747, media(at)georgiannalane(dot)com
Useful links:
Author's website: georgiannalane.com
Download full press kit, copies of this release, high resolution cover art and author's photos here:
http://georgiannalane.com/paris-in-bloom
Video book trailer: https://vimeo.com/196014146