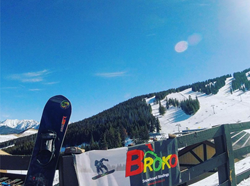 Trust the Brokos!
vail, co (PRWEB) February 21, 2017
Broko Bindings is providing complimentary, family-friendly on-snow demos of its rotating snowboard bindings now through March 31 at several ski and snowboard resorts in Colorado. Broko will be providing demos in Vail, Beaver Creek, Breckenridge, Keystone and Copper Mountain and others. Check for event dates on our Facebook page @brokobindings.
Participants can ride with Brokos on choice of terrain with Broko's CEO, and, depending on level, get challenged on the snow or get pointers from David. Brokos will be given to to anyone who rides them, and Broko is also giving away custom Broko stomp pads.
Broko snowboard bindings, designed by Broko's CEO David Renshaw, PhD, were first introduced commercially in Dec 2013. Brokos allow the snowboarder to reposition their stance dynamically on all terrains and conditions, make the stance more natural, reduce fatigue and injuries, produce a faster learning curve and allow for more aggressive tricks and freestyle maneuvers than the usual locked-in design. Most adjustments are not even consciously made, just like walking on uneven terrain.
The Broko binding is a simple, light-weight, low-profile, low-cost snowboard binding riser that allows each boot independent rotational freedom. While riding, the boarder generally experiences only subtle changes in positioning to allow for the most comfortable, controlled stance. The ease with which the binding may pivot in the stance allows the board to correct its orientation on a hill or a turn without torqueing the rider's stance, thus reducing falls and injury potential. As Broko riders have said, "you have to trust the Brokos." See an interview from last week here: https://youtu.be/wQndTG6_Fbs
Riders universally agree that Brokos reduce stress on ankles and knees, and allow easier and more intuitive control of the board. The ability to adjust the stance forward in lift lines and relieve the pressurewhile on the chair is an added benefit unto itself. A short clip provides a view of the Broko's motion: https://youtu.be/Fra37u3f5EQ.
About Broko:
Broko Snowboard Bindings, established in 2013, provides products for snowboarders, wakeboarder and kiteboarders. Broko's premier product is its rotational binding system for snowboards, wakeboard and kite boards. Broko's CEO David Renshaw, PhD, has been an avid snowboarder, surfer and wakeboarder since he was a child. Visit us on-line on Facebook @brokobindings or at http://www.brokobindings.com. Broko Snowboard Bindings ...don't be goofy.