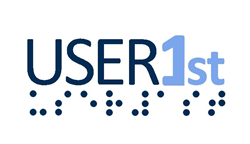 User1st provides tremendous value for organizations to achieve compliance, and life changing experiences for those who require and depend on Accessibility features
Washington, D.C. (PRWEB) February 21, 2017
User1st, a web accessibility company, has formed a partnership with IT consulting firm Intone Networks to advance access to the Internet for individuals with disabilities. As part of the partnership, Intone Networks is authorized to promote and certified to integrate User1st's quick-deploy, cloud-based automated accessibility software system, Accessibility Suite.
Rising trends in accessibility-related lawsuits have forced businesses and organizations to take notice of the growing demand for accessible online content. Although numerous federal, state, and local-level legislations mandate accessible online content, no technical guidelines have been released yet, leading to confusion among businesses looking to comply. Certain government agencies, though, have indicated that meeting the standards of the Web Content Accessibility Guidelines (WCAG) 2.0 AA level would fulfill the legal requirement of accessible online content.
Launched in 2014, User1st's innovative technology enables companies to easily and efficiently ensure that their websites are compliant with the highest web accessibility standards based on WCAG 2.0 AA Level. User1st's automated software corrects accessibility issues on web pages by creating and applying accessibility skins that fit over the page without altering its content. The system can be activated automatically or by the request of a unique visitor by a single click of a button. Different accessibility skins accommodate different needs for different disabilities, such as partial/complete blindness, epilepsy, motor disability, and more.
Intone Networks, established in 2003, is a recognized leader in the field of IT consulting. Specializing in software development, mobile applications, and more, the firm has been a listed by Inc. 5000 as one of the fastest-growing private companies in the nation. To assist with its User1st integration efforts, Intone Networks will work with staff from the Dreamscape Foundation, a non-profit organization that aims to provide educational, health, and work accommodations for individuals with disabilities. Individuals across the disability spectrum will assist with testing services for the User1st's platform, as well as offer help desk support.
"We are very excited to be partnering with an organization that places such an emphasis on its clients. We welcome Intone Networks into the User1st family and look forward to helping make the web more accessible to individuals with disabilities, together," said Amihai Miron, CEO and co-founder of User1st.
"We are passionate about providing solutions that have a positive impact on society. User1st provides tremendous value for organizations to achieve compliance, and life changing experiences for those who require and depend on Accessibility features," said Davey Sehwani, EVP & CIO of Intone Networks.
Visit User1st's blog for web accessibility related news, updates, and Spotlight Feature series, which highlights individuals who have advanced the rights, opportunities and boundaries of what was thought possible for individuals with disabilities.