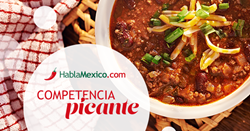 I've been using HablaMexico for more than 5 years now. Its so economical and simple to use. (Nicole J on Trustpilot.com)
Atlanta, Georgia (PRWEB) February 21, 2017
HablaMexico.com, the platform that serves the Mexican diaspora, invites all Mexican expats to join a new Facebook Contest on "Extrano Mexico" page on February 23, 2017, and celebrate Chili Day together. Those who leave a comment with their favorite Mexican chili dish automatically enter the race for a free top up from HablaMexico.com: https://hablamexico.com/buy/mobile_recharge
The contest on Chili Day lasts between February 23-26, and welcomes anyone interested to share what his or her favorite Mexican chili dish is. People get the chance to mingle with the community of Mexican expats, but also to win a mobile top up for a friend or a relative in Mexico who uses one of the networks there: Telcel, Iusacell, Nextel, Movistar or Unefon. Comments are expected on the Extrano Mexico Facebook page: https://www.facebook.com/ExtranoMexico.Fan
The contest theme is not randomly picked. Mexicans celebrate National Chili Day, or "Dia del chile" because chilis have such a rich tradition in Mexico. Dia del chile is one of those holidays that are inevitable in Mexico, since this culture abounds in chili stories, tales and myths. Chili spices up food, keeps it healthy and interesting, yet tests one's limits as well.
The prize will be announced just after the weekend, on February 27, and will consist of a top up to a mobile phone in Mexico. The top up is ready in seconds on HablaMexico.com since it is an online perfected process: https://hablamexico.com/buy/mobile_recharge
Mobile Recharge is the most popular service on HablaMexico.com, among the Mexican expats. International Mobile Recharges are instant and easy and help one send credit to a friend or family member in Mexico. Top ups say a lot about Mexicans' generosity towards people back home in Mexico, whose local communication they support by sending them local mobile credit from abroad. One of the reasons is also that the speed of the HablaMexico.com online tool makes the transactions almost instant. Promotions are very frequent for top ups, especially for mobile recharges to Movistar and Telcel.
The other two expat services faciliated by HablaMexico.com are Voice Credit and Virtual Number. Voice Credit is international calling credit that never expires, while Virtual Number is Mexican number one uses abroad to receive local calls from family and friends living back in Mexico.
With Voice Credit, also called Crédito de Voz, Mexicans abroad can call mobiles in Mexico at 1.9 cents/minute, and landlines there at 0.5 cents/minute, no matter the country they call from. The minimum purchase possible on HablaMexico.com is $2. This small amount brings 400 minutes to landlines or 105 minutes to mobiles in Mexico, or a mix of two.
The Virtual Number is also a very popular option for Mexican immigrants. They can get unlimited calls from Mexico as if they still lived there. For friends and family in Mexico who call the Virtual Number, costs are low, according to the local operator. In other words, they can call the person abroad on his or her Virtual Number at local rates. The cost of such a Virtual Number is $9.99 a month. But the service is flexible, it can be deactivated and reactivated any time according to one's needs.
Loyal customers receive not only Thank You points for future gift calls, but also regular offers and giveaways. Fans of the Facebook page Extrano Mexico are notified in their news feed on all contests and offers: https://www.facebook.com/ExtranoMexico.Fan
Mexicans' comments on review websites like Trustpilot.com point to the advantages of HablaMexico.com over other expat services:

No contract is needed to open an account and start using the services immediately.
The account includes a set of 4 features that cost nothing to activate.
Thank You points are offered on every purchase as a loyalty reward. They can be later converted into Voice Credit and used as balance for international calls.
Lowest rates on the market for calls to both mobiles and landlines.
International calls can be made from KeepCalling app, available for both Android and iOS devices.
Calling is also possible using access numbers that require no Internet connection.
24/7 human Customer Support is available in Spanish and English for any explanation or question.
Invoices and call history are available in one's online account.
3 expat services available in only one account: Mobile Recharge, Voice Credit and Virtual Number.
PayPal is accepted besides all major credit and debit cards.
Payment is accepted in any currency.
Transactions are 100% secure. The service is "Verified & Certified"
Anyone can earn credit while recommending the service to other fellow expats.
HablaMexico.com is a mobile-friendly website dedicated to the Mexican diaspora in the USA, Canada, Australia, Asia and Europe. The service is a brand of KeepCalling, a global telecommunications company registered in 2002 in USA. Presently, KeepCalling provides its services to hundreds of thousands of consumers and businesses, with a focus on customer satisfaction. KeepCalling was listed by Inc 5000 as one of the fastest growing companies in the USA for 5 consecutive years.