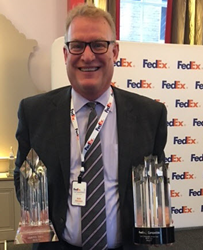 "We are extremely proud to have earned this prestigious award," said Bob Fischer, president and CEO of ADSI.
Schaumburg, IL (PRWEB) February 20, 2017
ADSI, a leading provider of order fulfillment, dimensioning and shipping software solutions, was awarded top honors as the Provider of the Year at the FedEx Compatible Solutions Provider Summit held in Amsterdam on February 20, 2017.
As FedEx's Compatible Provider of the Year, ADSI scored the highest marks in four FedEx categories: growth, customer adoption, contribution and potential. As a Certified Compatible provider since 1997, ADSI has collaborated closely with FedEx to provide FedEx-compatible shipping software solutions, seamless integration and robust features to help companies simplify and accelerate their supply chain operations.
"We are extremely proud to have earned this prestigious award," said Bob Fischer, president and CEO of ADSI. "We value our partnership with FedEx and enjoy working with their team to find new ways to serve our mutual customers. It also reflects our commitment to continued collaboration with FedEx to help our customers stay ahead of dynamic changes such as e-commerce growth and omnichannel fulfillment that are sweeping the industry."
Founded in 1997, ADSI is a longstanding Top FedEx Compatible Solution Provider and active participant of the FedEx Early Release Program. The company is an expert integrator and works closely with the industry's leading e-commerce platforms and marketplaces, ERP and WMS systems to provide flexible shipping solutions for customers. ADSI is also a Premier Solution Partner of Zebra Technologies, offering expert sales, consulting and support for the industry's latest mobile computing, barcoding and label printing solutions.
About ADSI
Advanced Distribution Solutions, Inc. (ADSI) is an industry-leading provider of flexible logistics management solutions for e-commerce companies, manufacturers, distributors and 3PLs. ADSI's solutions include Ship-IT™ shipping software, which is Amazon-certified for Prime Shipping, and additional modules for order picking & packing, package dimensioning, shipment consolidation, delivery tracking software and more.
For more information, please go to http://www.adsionline.com or contact Paula Heikell at pheikell(at)adsionline(dot)com or 952.913.0188.