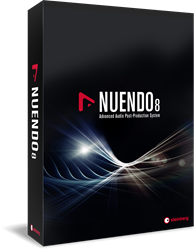 "We're delighted to be presenting Nuendo 8 at next week's GDC, and that we've the opportunity to team up again with our dear friends at Audiokinetic." (Timo Wildenhain; Senior Marketing Manager, Steinberg)
HAMBURG, Germany (PRWEB) February 20, 2017
Steinberg Media Technologies GmbH today announced the upcoming release of Nuendo 8. At next week's 2017 Game Developers Conference, taking place at the Moscone Center in San Francisco, CA, United States, Steinberg will be showing the first preview of Nuendo 8 at the Audiokinetic booth, no. 524 South Hall.
Steinberg first introduced Nuendo at the turn of the millennium to deliver native technologies with peerless audio and surround features to those working in the pro audio industry. Today, Nuendo is the centerpiece of audio production facilities around the globe, offering professionals for post-production and game audio dedicated workflows and features.
In the previous version, Nuendo introduced Game Audio Connect to the acclaim of many game audio producers by providing a new set of tools that lets Nuendo integrate directly with Audiokinetic's Wwise audio middleware solution, exporting mixdowns to Wwise, and version-controls projects by Perforce. With Nuendo 8, Steinberg now takes the next step and enhances this toolset: Game Audio Connect 2 provides an interactive music workflow by taking entire music compositions from Nuendo and handing these over to Wwise, including audio and MIDI tracks along with cycle and cue markers. Thanks to the close connection between both applications, Nuendo can now also be used as MIDI editor for Wwise.
Greatly expediting workflows, Nuendo 8 features Direct Offline Processing with its Live!Rendering capability, allowing users to easily apply frequently used processes in an offline plug-in chain and render offline processes in real time. Another highlight is Auto ReNamer that automatically assigns new names to all events, which is another common workflow in game audio.
Nuendo 8 lays emphasis on sound design, providing users with the necessary tools to create and manipulate audio. The Sound Randomizer plug-in creates different variations of a sound instantaneously, adjusting its pitch, timbre, impact and timing. The newly introduced Sampler Track is an easily accessible tool that allows users to drag-and-drop audio from the MediaBay into the track and play and manipulate the sample. Also included is the virtual-analog Retrologue 2 synthesizer, HALion Sonic SE 3, over 80 effects processors, including the new eight-band fully parametric Frequency EQ, and an assortment taken from the 2017 Hybrid Library by Pro Sound Effects, plus the newly developed video engine that replaces the former Quicktime-based engine.
Steinberg's Senior Marketing Manager, Timo Wildenhain, comments: "We're delighted to be presenting Nuendo 8 at next week's GDC, and that we've the opportunity to team up again with our dear friends at Audiokinetic. While we're aiming to release this latest iteration of Nuendo in June, it was important to us to unveil the new version earlier on at GDC. And there'll be other events leading up to the release date where Nuendo 8 will be showcased as well!"
Visit http://www.steinberg.net/nuendo for information on system solutions and services that Steinberg offers around Nuendo.
New features at a glance

Game Audio Connect 2
Sound Randomizer
Direct Offline Processing
Auto ReNamer
User profile manager
ADR enhancements
MixConsole History
Sampler Track
New zone concept
New video engine
Reworked plug-ins and improved performance