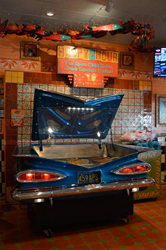 We're looking for team members who are passionate about food, have positive attitudes, and come to work to have fun
West Chester, Ohio (PRWEB) February 20, 2017
Known for its freshly made recipes and fun and eclectic atmosphere, Austin-based Tex-Mex restaurant Chuy's, will be opening a new location at 9538 Civic Center Boulevard in the Streets of West Chester shopping center. To prepare for the restaurant launch in April, the company is now hiring 170 new team members.
The West Chester location will be the fifth Chuy's to open in Ohio. Chuy's has already earned a reputation in the area for made-from-scratch Tex-Mex using only the freshest ingredients. The new restaurant's eclectic, inviting atmosphere will incorporate many elements unique to Chuy's, including metal palm trees, an Elvis Shrine, a "school" of hand-carved wooden fish, a hubcap-covered ceiling, and the La Chihuahua Bar, featuring framed pictures of local dogs.
"We are thrilled to open our doors to the West Chester community and bring made-from scratch Tex-Mex to the community." said Chuy's West Chester Local Owner/Operator, Ron Carson. "April can't get here fast enough!"
To support the West Chester restaurant at every level, Chuy's is seeking to fill a variety of positions, including front-of-the-house hosts, servers, bussers and bartenders. The restaurant is also hiring kitchen staff. Full-time and part-time positions are available.
"Chuy's is known for our dedication to great food," said Carson, "but also incredible service. That's why we're looking for team members who are passionate about food, have positive attitudes, and come to work to have fun."
Interested applicants can visit the hiring location Monday through Saturday from 9 a.m. to 6 p.m. at 9226 Schulze Dr, West Chester, OH 45069. Applications may be printed and completed ahead of the event at Chuys.com.
For updates and giveaways, visit the Chuy's West Chester Facebook page Facebook.com/ChuysWestChester.
###
ABOUT CHUY'S
About Chuy's Founded in 1982 in Austin, Texas, Chuy's serves authentic Tex-Mex food in an eclectic atmosphere full of color and personality. The menu offers family recipes from south Texas, New Mexico and Mexican border towns, all made to order from the freshest ingredients. Chuy's has the reputation as the most fun and friendly spot to eat real Tex-Mex at a great price. For more information visit http://www.chuys.com.