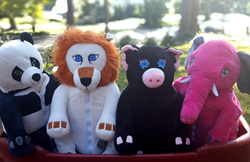 "As a mother I know the challenge of traveling with two young children. When we designed the Petptak™ we focused on the solutions to those challenges - in particular, the need to keep children happy and engaged in fun activities." - Marni Peters
Charlotte, NC (PRWEB) February 21, 2017
Idea Incubator Inc. announces the launch of the Petpak™, a multi-use backpack that is also a pillow, pouch and indented lap tray that makes travel more fun for kids and easier for parents. Whether your child wants to take an imaginative journey or real one, the Petpak™ is the friend that children will want to share their adventures with. Kids can choose from four animal friends -- Emmi Elephant, Ping Panda, Leonty Lion, Seymour the Pig. Each pet features a soft, washable chenille fabric for snuggling and sleeping, a large pouch for trinkets, games, books and snacks and an indented foldable tray for activities or eating.
"As a mother I know the challenge of traveling with two young children in a car, on a train and especially on airplanes," explains Marni Peters, Founder of Idea Incubator Inc., former airline executive and designer of the Petpak™. "When we designed the Petpak™ we focused on the solutions to those challenges -- in particular, the need to keep children happy and engaged in fun activities. I tested prototypes on my own six and four-year-old children as we traveled around the country, and I can attest to the fact that the Petpak™ can help keep kids busy with productive play and provide parents with a chance to relax and enjoy travel time too," says Peters.
The goal of designing the Petpak™ was to create the ultimate explorer-travel buddy for the modern mobile child. Each pet backpack is a catalyst for the imagination, spurring stories and providing the structure to implement those stories and create personal play space while on the move.
The Petpak™ took two years to develop and bring to market, and is now available on Amazon. "Ït's been an exciting and challenging process," says Peters, "and with the help, support, and feedback of my village, and my children, we launched successfully online."
Price & Availability
Available now: http://www.petpaktravel.com
$39.99 for Petpak
$49.99 for Petpak with blanket
Idea Incubator Inc.
Idea Incubator Inc. was founded in Gastonia, North Carolina, by mother of two and former airline executive, Marni Peters. Marni intends to continue creating practical, fun products for the modern mobile family while mentoring and setting an example for her children of the modern female entrepreneur.
For more information: Marni Peters, Founder Idea Incubator Inc.
Marn.iAmakers(at)gmail(dot)com
704-981-1033