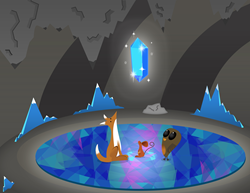 Good book. Had me crying - J.Carlson/ Author ----- Loved it. Reminded me of The NeverEnding Story - T. Anderson/ Author/ Editor-in-chief
Los Angeles, California (PRWEB) February 21, 2017
Losing something loved can be tough. But losing something and not knowing if and how to get it back? That requires hope and determination. Edward's Forest draws from heart-warming lessons and experiences, author Brandon Manning shared with his father. The importance of setting goals, trust & teamwork impressed upon him as a child have been adapted and shared as subtle, underlying themes throughout the story.
Edward's journey to find the forest brings him face to face with his natural predators—each with their own unique abilities—but also a shared desire. Edward's goal is simple, to live in the forest again and enjoy the fruits, nuts and friendly animals he recalled from his youth. After some obstacles, Edward is finally presented with an opportunity to live in the forest once again. To do so however, will require him and his companions to make a choice that will change their lives forever.
Currently available on Amazon in paperback & for Kindle. Edward's Forest is a 15 minute read, filled with illustrations and smiles. Its 25 readable pages, along with 25 illustrations. If you prefer to experience the story as a mobile game, check it out in the Apple and Google app stores when it launches on or before the 28th of March.