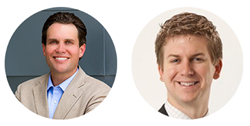 Our mission is to provide a goal-oriented service for entrepreneurs, and we're very proud of the over 500 turnarounds we've achieved.
Austin, TX (PRWEB) February 28, 2017
Today, Ark Financial Group, a fiduciary financial advisory firm based in Austin, TX, announced they have helped over 500 family businesses with their tax and wealth management objectives.
"Reaching this volume of service has been a goal for me and for co-founder David Bull from the onset," shared owner and Principal Jeff Socha. "Our mission at Ark Financial is to provide a goal-oriented and personalized service for entrepreneurs, and we're very proud of the turnarounds we've achieved in revamping over 500 tax and wealth management strategies."
After working for multinational advisory firms for over a decade, Socha and Bull recognized a shift in demand away from all-in-one financial firms and toward individualized, expert service for key money management objectives.
"In our previous lives at these big companies, we realized that our career success was predicated less on our client's improvements and more on commissions and sales quotas," recalled Socha. "We established our family office-style company to bring creative and unconventional solutions to business owners, considering their success and improvement the yardstick for our own. We have achieved that in spades and we're not slowing down."
Ark Financial Group's client base is comprised mostly of entrepreneurs and business owners. David Bull credits he and Socha's own experience with starting a company for their achievements in tax savings, investment performance, and business planning on behalf of their clients.
"Our favorite clients to work with are the ones with the most skin in the game," said Bull. "We work with some of the savviest businesspeople in Texas, who, regardless of their level of success, are constantly striving for improvement, and we truly relate to that drive."
About Ark Financial Group
Established in 2010, Ark Financial Group is a financial planning firm with a service built on tax efficiency. Ark Financial is based in Austin, TX and services clients across the United States, carrying fiduciary duty into all of its client relationships. More information is available at the company website: https://arkfinancial.com/.
###