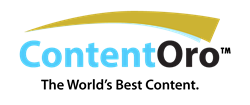 We investigated many content strategies for ShareFile.com, but we chose ContentOro because of the quality of its content and our shared passion for empowering small business owners
Ann Arbor, Michigan (PRWEB) February 23, 2017
ContentOro announced the implementation of its innovative content solution on ShareFile.com, a site dedicated to ShareFile, a file-sharing and collaboration tool from Citrix. Designed to educate business owners and managers, the Small Business Center has 24 in-depth sections with information and advice on a variety of aspects related to starting and operating a business.
Partnering with John Wiley & Sons, Inc., a global leader in research and learning, ContentOro seamlessly delivered the content to ShareFile.com via its proprietary process, better enabling Citrix to position itself as an advocate for small businesses. The content is designed to provide value to website visitors by fulfilling the need for in-depth business information.
"We are bringing professionally created and edited information and images from books to the internet as interactive content for the first time, and our customers are loving it. They are able to engage with customers in a new, innovative way through on-site content," said Bob Chunn, CEO and Founder of ContentOro.
"We investigated many content strategies for ShareFile.com, but we chose ContentOro because of the quality of its content and our shared passion for empowering small business owners," said Kevin Hill, marketing manager at Citrix.
Citrix is the latest in an impressive list of enterprise-sized organizations that have adopted ContentOro's technology, a remarkable trend for a startup that demonstrates the truly unique content solution they provide.
"I am thrilled to be working with a world-renowned technology company like Citrix, who aims to deliver quality content for their customers," said Chunn. "With the new resources, they will be able to reach a highly qualified audience who need the solution that ShareFile offers. And that's what we are all about, connecting people through content."
About ContentOro
ContentOro provides the number one need in digital marketing today – content – in a new and unique way. Proprietary software converts millions of pages of text and images from published books into high-quality pieces of fresh and relevant content that can quickly and easily be added to any website to engage customers. This on-demand access to the world's largest repository of professionally written content positions ContentOro to change the way digital marketers and brands acquire content for marketing.
For more information: ​http://contentoro.com/
Follow us: ​https://twitter.com/ContentOro
Like us: ​https://www.facebook.com/contentoro
About Citrix
Citrix and ShareFile are trademarks of Citrix Systems, Inc. are registered with the U.S. Patent and Trademark Office and in other countries. For more information, including a comprehensive list of Citrix marks, please visit http://www.citrix.com.