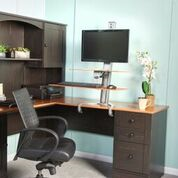 Visitors to HealthPostures' booth will get to experience the new, inviting colors and sleek design of the TaskMate Go.
Minneapolis MN (PRWEB) February 23, 2017
HealthPostures, the desk for standing designer headquartered in Prior Lake, Minnesota has announced that it is sending an expert sit stand solutions representative to the Minneapolis Home and Garden Show which is being held February 24 through 26 and March 3 through 5. Location for the event that is garnering national attention is the Minneapolis Convention Center.
From its broad line of sit stand desk solutions, HealthPostures will exhibit its newly redesigned TaskMate Go. Visitors to HealthPostures' booth will get to experience the new, inviting colors and sleek design of the TaskMate Go. Other benefits that visitors can gain include opportunities to explore improved comfort and productivity while at work. This new TaskMate Go design also has a new wood grain finish and a stylish, functional design.
HealthPostures is a pioneer in the mobility industry. The company got in front of the sit stand desk curve more than two decades ago. Its products encourage users to become more mobile and not to limit their healthier work experiences to simply standing. Because of its design, employees can exercise while they work if their monitor and keyboard are supported by the TaskMate Go. This is a rare opportunity for business leaders and human resources professionals to engage HealthPostures' executives in question and answer discussions.
In addition to HealthPostures, celebrities and feature speakers are scheduled to appear at the Minneapolis Home and Garden Show. Highlighting the feature speakers include Hilary Farr, the interior designer famous for HGTV's "Love It or List It" program.
Matt Muenster, Tyler Wiser, Bridget Lancaster and Julie Collin are among the many other feature speakers and celebrities slated to make an appearance at the Minneapolis Home and Garden Show. Guest services will be provided at the event.
Parking, wheelchairs, banking facilities and an official event hotel will be provided as part of the guest services. Individuals, nonprofit organizations and for profit companies are encouraged to attend. Tickets can be purchased online. Sponsors include American Family Insurance, Wings Financial Credit Union, Sleep Number, Energy Panel Structures, HOM Furniture and The Garden By The Woods.
About HealthPostures
Founded in the 1990s, HealthPostures LLC (https://healthpostures.com) has been a leader in the workplace solutions space for more than two decades. The company specializes in the design and manufacturing of workplace solutions like adjustable computer stand for desk, computer monitor stands for desk, sit stand keyboard designs and ergonomic sit stand chairs. Products that HealthPostures develops may help to relieve back and neck pain, headaches and other musculoskeletal disorders. A primary mission of HealthPostures' is to "strive to provide quality products that will help transform your sedentary life so you have a healthy way to work." Sought after ergonomics stand up desk equipment, including popular electric standing desks products, that HealthPostures designs include surface Taskmates, the TaskMate Go Laptop, dual monitor sit stand work stations and Stance move seat extensions. The company's strong reputation and proven products and accessories continue to attract regional and national distributors and resellers.
Contact:
HealthPostures LLC
16801 Industrial Circle
Prior Lake, MN 55372
800-277-1841
https://healthpostures.com