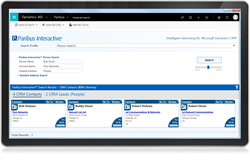 SUTTONS BAY, MICHIGAN (PRWEB) February 23, 2017
QGate, experts in delivering software solutions for Customer Relationship Management (CRM), today announced the launch of Paribus Interactive. The solution, a powerful ally in the prevention of duplicate data, is now generally available for all users of Microsoft Dynamics 365 / CRM.
Dale Rolley, QGate's Country Director for the Americas gives an every-day example of how this efficiency is achieved: "Imagine you need to find a contact called Bob Dixon. You are sure that Bob is in the system, but the lookup comes out empty. Why? Because someone entered him as Robert Dixen and the standard find/look up function in CRM requires an exact match. Bob could be in the system several times already, with slight variations to his name or his account name. So, you have two choices; either spend another ten minutes looking for him in various ways, or give up and enter yet another duplicate. Paribus Interactive's intelligent matching capability will surface these multiple records, saving you time and preventing another duplicate from being entered. Now, multiply this for every task of every CRM user and there's your gain in user efficiency and data accuracy."
Solving the problem of duplicate data in CRM is not something new for QGate. The company first released Paribus Discovery almost 15 years ago. A solution that has been helping organizations worldwide to identify, report and remove duplicate records. With the launch of Paribus Interactive, QGate takes the war on data duplication to the next level – by preventing it.
According to Dale Rolley, "this really is a game changer for organizations that rely on Microsoft Dynamics CRM, and the data within their system. If Paribus Discovery is the Cure for data duplication, Paribus Interactive is now the Prevention for the same disease. We've made it as simple, intuitive and affordable as we possibly could, and the reason for that was to remove any possible adoption barrier. There simply is no reason why users shouldn't have it."
How Paribus Interactive works
Paribus Interactive is a subscription-based solution, embedded in Microsoft Dynamics 365 / CRM and powered by an intelligent, fuzzy matching engine. It is capable of finding both people and organizations across the Account, Contact and Lead areas in the same search. The same capability is applied to the Lookup function available in Opportunities and Cases. In addition, when a user is creating a new Account and/or Contact the solution checks for existing similar records. Results are immediately displayed, and users can navigate to those records on the spot, instead of creating a duplicate.
Mark Cooper, QGate's Director Product Development explains, "whether you're associating a Case with a Contact, creating a new Lead, or simply looking for an Account address, if that data already exists, Paribus Interactive will find it."
The Paribus Interactive matching engine is significantly more effective than the standard Dynamics 365 / CRM duplicate detection capabilities. It is also configurable, so companies can adapt it to their CRM system as required.
Who can benefit from Paribus Interactive
In this first release, the solution is available for Microsoft Dynamics CRM 2013 and above, including Dynamics 365. Additional CRM systems will be supported in the future. Mark Cooper reveals that "the product has an ambitious roadmap, and the ultimate goal of Paribus Interactive is to prevent every CRM user in the world from creating a duplicate of something that already exists in the system."
Free Trial
Paribus Interactive is a cloud-based solution that is priced per-user per-month. QGate offers a 14-day free trial with no commitment required. To request it, please visit the product's web page: http://www.paribuscloud.com.
Additional information / press contact
Tel: +1 (517) 852-1214 x111 / E: info(at)paribuscloud(dot)com
Web: http://www.paribuscloud.com
About QGate
QGate are a UK and US based Microsoft Partner with 20+ years' experience in delivering and enhancing successful CRM projects in different industries across the globe. During this time, the company has developed CRM oriented solutions for Telephony Integration (intelli-CTi), and for solving the problem of duplicate records in CRM, with Paribus Discovery and Paribus Interactive. For additional information, please visit http://www.qgatesoftware.com