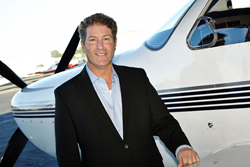 Let's do the spiritual and emotional work, get free of the issues we have been carrying around for generations and evolve
San Diego, CA (PRWEB) February 22, 2017
As a leader of the free world the new President, Donald Trump is poised to make a big impact in the United States and the world. Aviation leader, entrepreneur and spiritual teacher Robert DeLaurentis explains in a new article what this means for leadership, personal growth and spirituality. His Medium article provides insights into how Trump affects our spiritual and personal evolution. Points include the impact of previous presidents, Trump's values and beliefs, and a wiser and more beneficial perspective moving forward.
According to pilot, author and speaker, Robert DeLaurentis, society can benefit from the new leadership with a fresh perspective. DeLaurentis says this will help people deal with issues like racism, chauvinism and bullying.
Peter Leyden, Founder & CEO of Reinvent, said in a recent Medium article that "Trump is a symptom of something much bigger and more fundamental going on in the world."
DeLaurentis adds that current thinking has not been moving us forward. "Let's do the spiritual and emotional work, get free of the issues we have been carrying around for generations and evolve. Think how great life could be if we dropped those burdensome rocks in our backpacks and instead carried the opposite values of inclusiveness, humility, equality and compassion every day and everywhere we go."
Robert DeLaurentis, the "Zen Pilot," is a noted aviation speaker and author with over 1100 flight hours. A leading expert for aviation and spirituality, DeLaurentis covers these topics and experiences as a solo pilot flying around the world on his blog, "Flying Thru Life." DeLaurentis is recommended by AOPA, EAA, MT Propeller, Best Western and more. Robert DeLaurentis provides presentations and motivational speeches to encourage and inform his audience to breakthrough their fear and take action to realize their impossibly big dreams. His latest book, Zen Pilot, was released in November, 2016.
For more information on Robert DeLaurentis and for speaking engagement, please contact him at his website: flyingthrulife.com for more information.